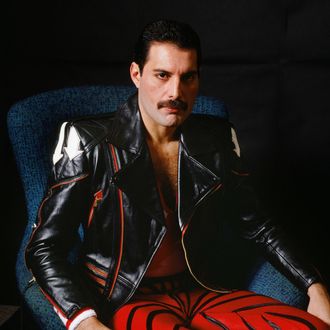 Well combed.
Photo: Koh Hasebe/Shinko Music/Getty Images
Is this the real life, or is this just a Queen fan's fantasy? Per The Wall Street Journal, about 1,500 of Freddie Mercury's personal possessions are going on sale this fall. Starting on September 6, Sotheby's will hold a weeklong series of auctions that feature a variety of household items from Mercury's Garden Lodge home, including his Tiffany mustache comb, the rotary phone he kept by his bedside, and his collections of everything from kimonos to vintage wood-block prints. Mercury's guitars, stage and music-video outfits, early drafts of songs, and more will also go up for grabs. According to The Guardian, Mercury's close friend Mary Austin will donate some of the proceeds to the Mercury Phoenix Trust and the Elton John AIDS Foundation.
Potential buyers can preview many of these items in an exhibit at Sotheby's London location opening August 4 (other items will be sent to smaller shows in New York, Los Angeles, and Hong Kong). To give you a sense of how much to budget for this estate sale, bidding will reportedly start at around $250,000 for a handwritten copy of Mercury's draft lyrics to "We Are the Champions," while the red crown and cloak he wore during his last performance of "God Save the Queen" is expected to sell for around $74,000. Basically, if you're just a poor boy from a poor family, you might want to start saving up.