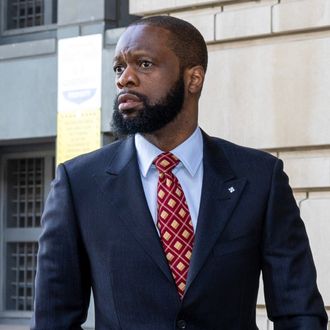 Photo: Tasos Katopodis/Getty Images
Former Fugee Pras Michél has been convicted on ten counts related to a criminal conspiracy to help China gain access to U.S. officials. According to CNN, he faces up to 20 years in prison. He was on trial in connection with Malaysian businessman Jho Low's attempts to reach U.S. officials, including Barack Obama and Donald Trump. Michél was found guilty on Wednesday afternoon of conspiracy to defraud the U.S., witness tampering, and acting as an unregistered agent of a foreign government. His lawyer told the press he will appeal if and/or when they move to sentencing, saying, "This is not over."
Prosecutors said Low gave Michél more than $100 million to influence the American government to stop investigating him. Michél testified that the $100 million in question came from a media business, not from Low. He said his only involvement with Low was to help him find him a U.S. attorney.
Michél was also accused of advocating for the extradition of a Chinese dissident on behalf of the Chinese government as well as giving over $800,000 of a different $20 million payment from Low to Obama's campaign. Michél testified that Low had paid him $20 million to get a picture with Obama. Michél said he then used $800,000 of that money to donate to Obama's campaign, adding that it was his money to use as he saw fit. "I could have bought 12 elephants with it," he testified.
No sentencing date has been set. Low was also charged and is believed to be in China.