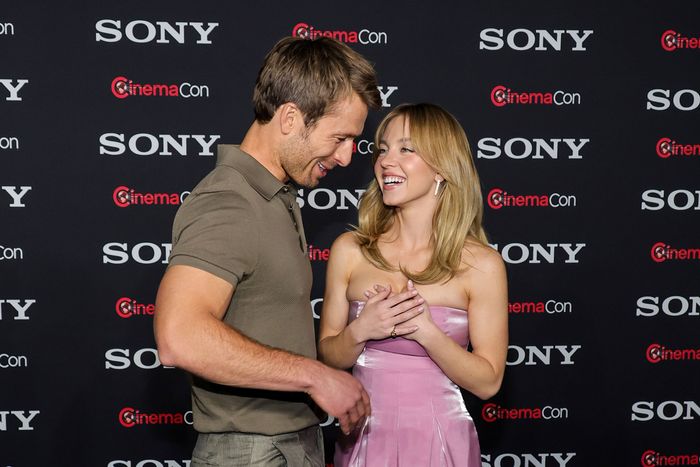 "I thought he was Miles Teller until the fourth day of shooting," Sweeney said with an eye roll onstage while promoting the Sony rom-com
Anyone But You.
Photo: Ethan Miller/Getty Images
Kicking off Las Vegas's CinemaCon on Monday night, Sony Pictures teased exclusive materials from a diverse slate of upcoming movies aimed at seemingly incongruent quadrants of the moviegoing spectrum — specifically, superhero fanboys, serious cinéastes, and avid readers of DeuxMoi. While A-list talent such as Denzel Washington, Jennifer Lawrence, and Orlando Bloom ascended the stage at the Caesars Palace Colosseum to stump for their upcoming projects (respectively, The Equalizer 3, the R-rated raunch comedy No Hard Feelings, and the PlayStation race-car-game adaptation Gran Turismo), their star wattage was eclipsed by first-look footage from a pair of eagerly anticipated titles — Kraven the Hunter and Napoleon — as well as an up-close glimpse of a movie romance turned full-blown would-be tabloid courtship.
First came 14 minutes of work-in-progress footage from Spider-Man: Across the Spider-Verse, the long-gestating sequel to 2018's Oscar-winning Best Animated Feature Spider-Man: Into the Spider-Verse, which seemed to underwhelm the 4,000-something CinemaCon audience. Then the Sony Motion Picture Group co-president Sanford Panitch emerged to introduce Kraven, a third character offshoot after Venom and the underperforming Morbius in Sony's MCU-adjacent Spider-Man universe, centered on what the executive called "one of Marvel's most iconic villains." Star Aaron Taylor-Johnson beamed in via video to answer what he called "the internet's biggest question" concerning the film: "'Will it be rated R?' Fuck yes, it will be rated R! Kraven certainly isn't talking people to death in this film," the English actor said to ripples of applause.
Teaser-trailer footage revealed the J.C. Chandor–directed thriller will be an origin story for the leather-clad, muscle-bound character (birth name Sergei Kravinoff), whom Taylor-Johnson described as a "fierce hunter, a highly trained killer." We see him stab a safari-game-park poacher with what appears to be an antelope horn, then bite a man's nose off and spit it out in a frenzy of blood. Kraven jumps out of a tree to kill a man with a giant bear trap, runs horizontally along walls with super-speed, murders a prison guard with the pointy tooth of a taxidermy leopard, and then hurls a spear to shish kebab a bad guy in a helicopter. "You're a goddamn lunatic!" co-star Ariana Debose hisses at him between sprays of arterial splatter. Russell Crowe turns up as Kraven's dad, who imparts this fatherly wisdom: "Everything on this Earth lives by consuming something else." The crowd ate it up.
Later in the presentation, Glen Powell and Sydney Sweeney emerged from the wings with nary a word of introduction from a Sony suit to exchange choice words in support of the R-rated rom-com in which they co-star, Anyone But You.
"We love seeing ourselves on the big screen," said Powell, who is best known for playing Lieutenant Jake "Hangman" Seresin in last year's Top Gun: Maverick.
"Oh please, Top Gun," said Sweeney, dripping with sarcasm.
"I love it when she calls me that."
"I thought he was Miles Teller until the fourth day of shooting," Sweeney said with an eye roll.
"Sydney plays a character who's a real nightmare," Powell said in response.
"And Glen plays a character who's a real asshole," she retorted. "His character is a real dickhead."
In the CinemaCon sizzle reel for Anyone But You, we discover the couple have a seemingly insatiable sexual appetite for each other but hate each other's guts. After one moment of postcoital bliss, Sweeney smacks Powell in the balls and slaps him in the face. Later, when the two reenact Titanic's "I'm flying!" scene on the bow of a yacht in Australia, he accidentally flips her character overboard. The clip ends with Sweeney massaging Powell's buttocks beneath his swim trunks, asking, "Do you have a mole?," only to cause a giant wasplike insect to fly out, compelling him to rip off all of his clothes and jump off a cliff.
Of course, for anyone who has been following the pair's alleged BTS exploits in People and the Daily Mail, news of their onscreen chemistry and flirty, jokey rapport inside the Colosseum auditorium will come as no surprise. Euphoria star Sweeney and Powell "have been snapped looking loved-up on set several times," according to "Page Six." And DeuxMoi has assiduously chronicled how paparazzi photos from the Anyone But You production have allegedly resulted in a romantic fracture between Powell and his longtime girlfriend, Gigi Paris, leading other outlets to call the "dating rumors the celeb gossip du jour."
"You knew I wasn't Miles Teller," he said when the clip finished.
"I thought you were Tom Cruise, though," she said with a flourish of undisguised flirtation. As the room momentarily darkened, the two walked offstage holding hands.
The studio panel concluded on a high note with the earliest sneak-peek look at what seems all but certain to become a major 2023 awards-season contender: Ridley Scott's Napoleon, starring Academy Award–winning Beau Is Afraid lead Joaquin Phoenix. Sony chairman and chief executive Tom Rothman came out to tee up the Apple original film, for which Sony is handling "robust" theatrical distribution around Thanksgiving (weeks before it goes to streaming) and which has reportedly received enthusiastic test screenings. By way of introduction, Rothman mused about how the 85-year-old Scott — the éminence grise director behind an eclectic filmography of epochal titles including Alien, Blade Runner, Thelma & Louise, Gladiator, and Black Hawk Down — has long been denied the top industry accolade. "He's been running circles around me and everyone else in Hollywood for years," Rothman said. "But he has never won the Oscar for Best Director … He can do things cinematically that filmmakers half his age can't do."
The executive set the scene for the footage we were about to see by explaining Scott's vision for the French emperor as a "mercurial" — "Ridley would say 'son of a bitch,'" he added — military genius. In the scene, Russian and Austrian forces have discovered an encampment of French soldiers at the edge of a snowy forest and rush in to massacre them. Turns out they are playing right into Napoleon's hands. His troops not only have the higher ground by hiding behind nearby tree cover, they begin blasting cannons at the invaders to reveal the horrible liability of the enemy's position atop a frozen lake that crumbles beneath their feet with each concussive cannonball impact.
A wall of men running down a snow-covered hill. Riders on horseback emerging from the mist. Hundreds of extras engaging in hand-to-hand combat. Bodies kicking and flailing and receding into icy water, all set to hymnlike music with swells of ominous violins. According to Rothman, Scott shot the sequence practically, contrary to Hollywood's prevailing methods, with a minimum of CGI enhancements. It was an undeniably impressive spectacle on the kind of grand scale one associates with David Lean's Lawrence of Arabia or Stanley Kubrick's Barry Lyndon. "Old-school big screen," Rothman said afterward. "Epic is the only proper description."