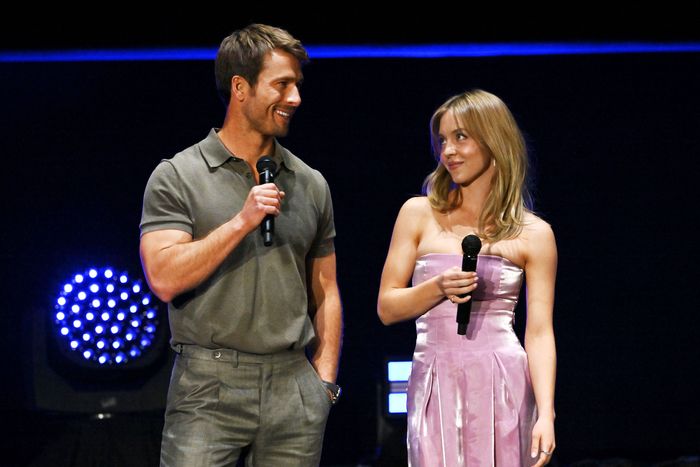 Photo: Rob Latour/Shutterstock
By now, every person with eyes and internet access has borne witness to the palpable sexual tension currently radiating between co-stars Sydney Sweeney and Glen Powell.
While promoting their new film, the R-rated romantic comedy Anyone But You, the general consensus is that the pair have been doing too good of a job convincing the public that their electrifying chemistry is authentic and not just a product of the movie's savvy marketing department. The unbridled flirtatious energy between these two rising movie stars wouldn't be quite such a big deal were it not for the fact that Sweeney is currently engaged to her boyfriend of four years, restaurateur Jonathan Davino, while Powell was thought to be with his girlfriend of three, model Gigi Paris — though that was recently proven not to be the case.
All appearances would suggest that Sweeney and Powell have hooked up, but the pair's PR teams and a myriad of anonymous sources have been working overtime all week to prove to the tabloids that this film is not going to be another Mr. & Mrs. Smith situation. These two are just really, really good method actors, okay?! Whether or not life is actually imitating art and these two have fallen head over heels while pretending to fall head over heels still remains to be seen. But if this is all just a strategy to get us excited to see a rom-com that didn't even have a title until this week, it's working. The movie has instantly become one of the most anticipated rom-coms of the year. (And we needed a rom-com with good chemistry. I mean, remember Ashton Kutcher and Reese Witherspoon during their rom-com promotional circuit for Your Place or Mine back in February? Exactly.)
So while we may never know what went down on that movie set, what we can say is that Sweeney and Powell have certainly provided plenty of fodder to keep those will-they, won't-they rumors circulating in perpetuity and get butts into movie seats whenever this thing does finally come out. Here, all the times these romantic leads played their roles just a little too well.
The Offscreen Chemistry
Since the cast was announced at the beginning of the year, Powell and Sweeney have been in Australia filming Anyone But You, from the director of Easy A and Friends With Benefits, matchmaker Will Gluck. From the moment paparazzi images of the two of them on set started surfacing, fans couldn't help but take note of the pair's natural chemistry both during scenes and in between takes — not to mention the way they always seemed to be positioned next to each other in group photos and that Sweeney spent a whole lot of quality time with Powell's family during filming, for someone who is simply a colleague.
Filming wrapped shortly after Paris's departure, and Powell and Sweeney began to post all sorts of behind-the-scenes content from their time working together to drum up excitement for the movie's release. However, that content drummed up a little more excitement than either of them intended. One video in particular, in which Sweeney does a trust fall off a couch into Powell's arms, set social media alight with condolences to the two actors' partners. Another Instagram slideshow posted by Sweeney, in which she and Powell's heads are touching in almost every single shot, certainly didn't help the speculation. Although, as someone with a lot of friends who graduated from the NYU Drama department, I have to point out that this is also classic actor behavior. If you're an actor and you aren't somehow in physical contact with another actor, did you ever really zip, zap, zop at all?
The Real-Life Breakup
Last month, suspicions began that Powell's relationship with Paris was on the rocks after the model went to visit him on set but stayed for less than two weeks — an amount of time that I thought seemed perfectly reasonable to go visit a person, let alone a person at work in Australia, but that "Page Six" implied really is not. And considering the trajectory of this whole narrative, I guess the publication was right!
Shortly after Sweeney shared the above carousel of treasured memories from Down Under, Paris unfollowed her. The model then all but spelled out what happened in a string of not-so-cryptic Instagram Stories, posting music such as Fleetwood Mac's "Silver Springs" and the Wild Rivers' "Thinking 'Bout Love" (from their album Songs to Break Up To), both of which are about the demise of a relationship. She also shared an image from Gabby Bernstein that read, "gut feelings are guardian angels," then capped off her posting spree with a telltale sexy photo shoot captioned "never better" with a waving emoji. Paris later unfollowed Powell as well.
The Press Tour Begins
This week, on April 25, the two romantic-comedy leads arrived in Las Vegas to promote the film at CinemaCon, and fans noticed that Sydney wasn't wearing her engagement ring during the appearance. Again, not the most unusual behavior for an actress who has outfit changes and jewelry-brand contracts to fulfill. But given the current headlines, you'd think she'd like to dissuade out of respect to her fiancé; the choice to go ringless did seem a little sus.
During this appearance, Sweeney and Powell also had a string of very playful exchanges (that is, when they weren't gazing at each other with doe eyes and goofy grins). Clearly, they had a whole lot of practice pretending to be in love while filming in Australia.
At the height of all the gossip swirling around this week, Sweeney chose this particular moment to post a video of herself wearing a crop top that reads "KISS THE BOYS AND MAKE THEM CRY" — which, as with all of the above evidence of this supposed affair, is either a completely innocuous detail or the obvious smoking gun.
On April 26, Paris finally confirmed that she and Powell had broken up, posting a video of herself walking away with the caption "Know your worth & onto the next." However, according to a source who spoke to People, the couple actually split up weeks before all this drama unfolded, following earlier breakups and reconciliations. "Gigi and Glen had broken up several times," the source said. "They had been on the rocks since Top Gun came out. Gigi was never happy with the long distance filming and when she came to Australia they both decided to break up for good." So what I'm hearing is Powell has actually been single for weeks now … interesting.
Sweeney, however, is still very much engaged to her fiancé, "multiple sources with knowledge" confirmed to TMZ. They also confirmed that the couple is still living together and that she and Powell are "not dating," though we didn't exactly ask if they're dating. Davino was seen outside the home he and Sweeney share in Los Angeles on Tuesday carrying a couple of duffel bags and her dog's bed, suggesting Sweeney and Powell really might just be incredible actors taking the verisimilitude way too far.
Either way, I blame Tom Cruise for all of this. When he and Powell were filming Top Gun: Maverick together, Cruise told him to "lean into" being a douchebag, thus setting off a chain of pop-culture events he couldn't have possibly foretold.