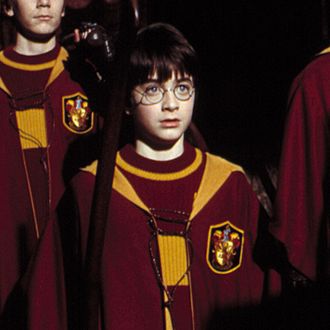 Photo: Warner Bros/Everett Collection
The Zazz Man continues to zag. Warner Bros. Discovery CEO David Zaslav used to be one of those notorious serial dumpers (of series). But all it took was meeting the right multibillion-dollar property for the Zazzmeister to change his ways and drop his commitment phobia. On April 12, the streaming service formerly known as HBO Max (as of today, just Max) announced that it will produce the first scripted Harry Potter show and that this "decade-long series" will span all seven Harry Potter books in a "faithful re-creation" of the text.
Max promises the show will be made with "the same epic craft, love and care this global franchise is known for. The series will feature a new cast to lead a new generation of fandom, full of the fantastic detail, much loved characters and dramatic locations that Harry Potter fans have loved for over twenty-five years."
At a Q&A, chairman and CEO of HBO & Max content Casey Bloys confirmed that J.K. Rowling, who has been aligning herself on Twitter with far-right figures posting content that is not only transphobic but also racist, "will be involved" with the series as an executive producer. "I think her insights are going to be incredibly helpful on that," Bloys said. The company will begin to look for showrunners now that the news is officially out. Nothing has been said about the casting process for the new Harry, Ron, Hermione, Draco, and so on.
Bloys deflected a question about Rowling's transphobic comments, saying, "I don't think this is the forum" and "Our priority is what's onscreen. Obviously, the Harry Potter story is very affirmative and positive and about love and acceptance." Bloys dismissed the question because it's "a very online conversation," which, like … what do you think a streaming service is, Casey? Where do you think it streams?
In a written statement, Rowling said, "Max's commitment to preserving the integrity of my books is important to me, and I'm looking forward to being part of this new adaptation which will allow for a degree of depth and detail only afforded by a long form television series." Look at how easy it was for Joanne to pivot to using the platform's new chosen name! Almost like it's an easy, reasonable thing to do.