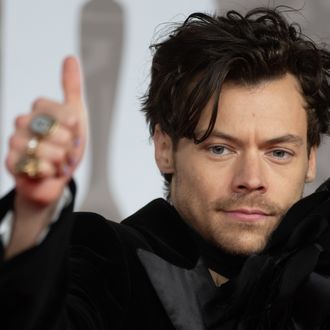 Chin up, Directioners.
Photo: Samir Hussein/WireImage
Sorry to everyone who was led in the wrong direction by TikTok conspiracies, but 1D did not get back together on The Late Late Show With James Corden. Still, Harry Styles doesn't want to rule out the possibility forever. In the weeks leading up to Corden's final episode, some parts of the internet became convinced that Styles's guest appearance on the CBS show meant that OT5 One Direction would be reuniting. The Late Late Show's Twitter account explicitly denied the rumor, but that didn't stop some Directioners from hoping for a surprise when they tuned in on Thursday night. Excitement only rose after Corden jokingly suggested in a skit that he should "finally kidnap One Direction," with the camera cutting to five "kidnap cams" showing Niall Horan, Louis Tomlinson, Zayn Malik, Liam Payne, and Styles.
Styles finally faced the speculation head on during a shortened "Spill Your Guts or Fill Your Guts" segment, when he read aloud a card asking, "Yes or no, will there be a One Direction reunion?" After pausing for the inevitable audience cheers, he responded, "I fear that it's not a yes or no question. I think I would never say never to that. If there was a time when we wanted to do it, I don't see why we wouldn't." Unfortunately for the Directioners, they apparently didn't want to do it tonight. So for now, it looks like fans will have to turn to Wattpad if they want a 1D kidnapping story line.