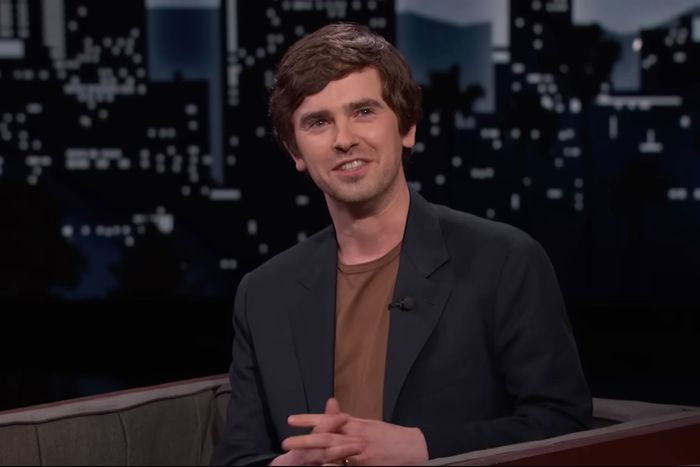 It's the penultimate week of The Late Late Show, and the senioritis is contagious. Every show that aired this week spilled tea. From John Oliver shading (sigh) Max to Scheana Shay going on WWHL to discuss what happened after she went on WWHL last month, it was a very inside-baseball week of late night. There were good sketches ("Plant Dad" on The Tonight Show, and The Daily Show's apology on behalf of Tucker Carlson stood out), but this was really more of a The Late Shift-coded week. A writers strike is looming, the landscape of late night is shifting, and the famouses are trying to find the lols within the hellstate of the industry. Here's the best gossip that snuck out of PR training this week in late night.
5. Jimmy Fallon Owes His Career to Chris Evans?
The No. 1 rule in Hollywood (which is not observed) is to be nice to everyone, because you never know who's going to make it big and possibly make or break your career later. The lowliest casting intern can become People's Sexiest Man Alive. Jimmy Fallon and Chris Evans discussed how their paths crossed almost a decade ago, when the casting department where Evans was interning gave Fallon his first on-screen credit. Fallon was cast as Photographer No. 2 or whatever on Spin City, and Evans was in the room where it happened. Small world.
4. Did Woody's Dad Bang McConaughey's Mom?
Vulture has touched on this story already, but this is a wild bit of PR. Matthew McConaughey told Variety that there's a distinct possibility that he is actually half brothers with his frequent co-star Woody Harrelson. Apparently Mama McConaughey let it slip at a dinner that she "knew" Harrelson's dad (who is a convicted hitman and who some conspiracy theorists think killed JFK, but we don't have time for that). And the way she said it was … loaded. In this clip, Stephen Colbert described the silence that followed as "pregnant." It's a good talk-show tidbit, but a tweet I saw (which I can't find now because that's how Twitter works) suggested the whole story is kayfabe. And if that's true? That's some gorgeous PR work right there.
3. Can The Late Late Show Keep Their MacBooks?
The Late Late Show is ending, didja hear? This clip is very, very good late-era Corden because 1, Reggie Watts is divested yet compelling; 2, Hagar is only now noticing that the graphics of the opening credits have changed to acknowledge that the show is ending; and 3, CBS is making the Late Late staff either buy their laptops or they're going to throw them away. It makes sense from a cybersecurity standpoint, but for the environment? Literally, in this climate? We've rarely been given this granular a look at the dissolution of a late-night show. The Chris Gethard Show harvested David Letterman's set, and Conan's last Tonight Show monologue made light of screwing the NBC budget, but this is some real time nickel and diming we are seeing here.
2. What Did Scheana Do on March 1?
How funny is it to defend yourself against punching allegations with "My nails are too long to make a punch"? Rachel dropped the restraining order, so Scheana Marie is free to discuss the events that resulted in said restraining order. She said she couldn't punch Raquel, was silent when asked if she shoved her, and copped to throwing her phone. Meanwhile, Bravo-adjacent ghoul Michael Rapaport was there to ask follow-up questions. Between the podcasts, the IG stories, WWHL, and the tabloids, Vanderpump Rules truly has the ARG rizz that Lost always wanted.
1. Who Pushed Freddie Highmore Into a Closet?
This was the hottest tea to spill all week. On Jimmy Kimmel Live, Freddie Highmore said that an unnamed talk-show host had their staff in quite a tizzy. When it seemed like Highmore and the host were about to make eye contact backstage, the staff shoved him in a closet rather than encounter the host in the wild. Now who on earth could that be? Who is already rumored to be eye contact-averse from people they consider to be lesser? Hmmm! This is peak goss and the best kind of blind item.