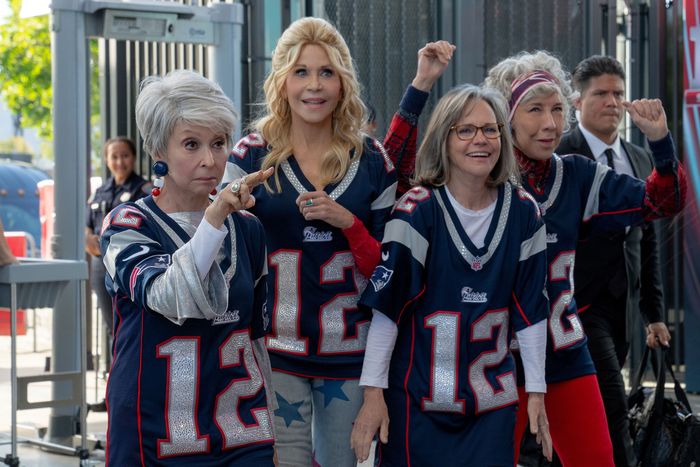 Photo: Scott Garfield/Paramount Pictures
For first-time director Kyle Marvin, everything about 80 for Brady is surreal. At the same time that the actor turned filmmaker could be seen opposite A-listers Jared Leto and Anne Hathaway on last year's Apple TV+ series WeCrashed, he was behind the camera directing an even more star-studded cast. Inspired by a true story, 80 for Brady stars the legendary quartet of Jane Fonda, Lily Tomlin, Sally Field, and Rita Moreno as diehard New England Patriots fans who travel to Houston for the 2017 Super Bowl and one final chance to see their beloved Tom Brady play in person.
The film is more than a promotion for the seven-time Super Bowl champion, who originally retired ahead of 80 for Brady filming, only to unretire by the time production began and then, finally, for good, maybe, retired once again in February, the morning after the 80 for Brady premiere. Marvin saw an opportunity to upend the traditional sports-movie formula, and in doing so, buck Hollywood standards by putting actresses of a certain age front and center. Here, Marvin shares the stories behind 80 for Brady's wackiest and wildest scenes.
We're All Guy Fieri
After Betty's (Field) victory at Guy Fieri's wing-eating competition, she realizes that she has lost the group's Super Bowl tickets. So when she, Lou (Tomlin), Trish (Fonda), and Maura (Moreno) arrive later that night at a party, they split up to find the famous restaurateur in hopes that he can help. One problem: Unknowingly, the ladies have eaten high-dosage gummies. Soon, Maura stumbles across a poker game that appears to be filled with countless versions of Fieri. She looks in the mirror, and sees herself as the Mayor of Flavortown. "I"m Guy Fieri," she declares. Once she's a tad more lucid, she sits down to play a couple hands with the actual Fieri, as well as stars Billy Porter, Retta, Patton Oswalt, and retired NFL star Marshawn Lynch.
Guy Fieri does a pregame tailgate thing at every Super Bowl. And so we started sprinkling Guy into the movie and then the joke just got funnier and funnier, so we kept doubling down. We wrote that Betty thinks they're all Guy Fieris looking back at her, and we had this surreal experience of FaceTiming him while he was on a boat in Florida, and he's like, "Guys, this is batshit crazy — fuck it, I'll do it."
The VFX stuff was a little tricky because we didn't have the budget to do big special effects, so we did it pretty practically. We had to re-create that poker scene on a green screen to get Guy in every position and then Rita gave us a bunch of different takes of "I'm Guy Fieri." It's not an easy shot, because she comes in, steps forwards and then turns, and we have to dolly over at shallow focus. It was one of those moments on set where everyone's holding their breath because the delivery was so funny and the camera worked in tangent with it.
And then we shot the poker scene with those great cameos. It's a tricky thing asking actors to come in and cameo, particularly for a director that nobody knows. [Laughs.] Marshawn was always at the table because he's so funny. I really wish we had done more Marshawn; I'll do that movie next. [Marshawn and Rita] hit it off behind the camera and now they text each other, just to check in.
Jane Fonda's Workout
Upon arriving for kickoff, the ladies realize that their tickets are fake. After learning that Lou (Lily Tomlin) was determined to make this trip because she's worried that her cancer is back, they're now desperate to find a way inside. That's when Maura spots one of her poker pals, Gugu (Porter), who happens to be Lady Gaga's choreographer for the halftime show. He attempts to get them in under the guise of backup dancers, but an overzealous security guard (Ron Funches) isn't buying it, and orders them to prove it. After a brief huddle with Gugu and the real dancers, our gals launch into a delightful impromptu dance number. 
Every time I'm hanging out with [Rita] and I mention dancing, she'll stand up out of a chair and samba through the room, just part of her telling a story about, "I remember this one time I picked up a coffee …" That woman loves to perform, and she loves to dance, and she's still got it.
In making the movie, we had a handful of days for prep, and the shoot itself was only 32 days with no reshoots, so we shot this thing at hyperspeed. Normally you'd want to spend a week rehearsing those dance moves, and they only had two days of partial dance rehearsals. We had a great choreographer who we brought on because he did this amazing project in elderly homes where they would tell their story and then they would perform a dance representing the moments of this person's life. And so he had such an affinity and a shorthand for older people, and especially the way that their bodies moved and what was really fun for them. And so he put together that dance, and we worked through it a little bit and then we brought the women in.
It's not easy to learn a dance like that in two days, and everyone was stressed out. All of those women are consummate professionals, and they wished they had more rehearsal. They were dancing and dancing and dancing in those rehearsals, to the point that they were icing their knees. We shot the sequence a couple weeks later, and did three takes all the way through. They all were complaining and saying, "We didn't have enough rehearsal, we're not tight," and then you watch them do it and you're like, "You guys are all incredibly good at this." In the actual sequence that we shot, they do a dance badly, stop and regroup, have that moment, and then do a dance well. On set, they were pretending like they didn't know the moves and they were just improvising on the spot to try and match the background dancers. It was one of my favorite things, and unfortunately it didn't make the cut, but we're going to try and get it on the DVD extras — or whatever they call it these days.
Beard Rubs and Coaching Brady
In Super Bowl LI, Brady and the Patriots went down 28-3 before rebounding in an epic comeback. According to 80 for Brady's fictional account, the turnaround was spurred by a dramatic pep talk from an unexpected source: Lou, who connects with Brady via the headset in his helmet and delivers the type of monumental sports-movie speech usually reserved for the actors playing coaches (think Al Pacino or Kurt Russell). After the game, the ladies are escorted into the winning locker room, where Brady and his fellow Pats await. Maura gets to meet wide receiver Julian Edelman and rub his beard; Betty and wideout Danny Amendola become fast friends; Trish bumps into tight end Rob Gronkowski, the subject of her erotica book, Between Gronk and a Hard Place; and Lou and Brady finally come face-to-face for a humorous and touching conversation about never giving up, no matter the obstacles.
Rita offhandedly pitched us this idea of rubbing Edelman's beard, which we thought was so funny and then we came up with that line, "I want to shave you," and he thought that was hilarious. They all have such a good sense of humor. And Sally really hit it off with Amendola, so there was just this natural affinity between everyone, and they came ready to go and have fun. They would watch each other on the monitors and it was sort of a one-upmanship. Every one of them thought they were funnier and wanted to keep outdoing it and keep performing. The guys weren't necessarily carrying a big load; they showed up, they got dressed, they hung out, they did these scenes with iconic actresses and then went home.
Tom was a bit of a bigger lift. He did say to me, "I respond to coaching, and in this moment, you need to coach me." And so we had some conversations about how best to approach a scene, how I do it as an actor, and how to get in there and explore what we needed to. You can easily get overwhelmed with his power and how iconic he is, and the truth is that I had to take that away and just be two people trying to get the best thing out of this moment and treat him as a peer trying to make a movie. Tom and Lily was a pretty amazing experience. It's not an easy thing to do a conversation or speech like that. And we had talked and he had done some things to get himself ready, but nothing really prepares you for having to dig in real-time to a scene like that and commit to it. And I said, "Just look Lily Tomlin in the eyes and deliver those things you're saying straight to her — and feel it." And Lily is so good at giving, at emoting, and being part of the scene, he just locked eyes on her and started going, and I'm really proud of him for the work he did.
80 for Brady is now streaming on Paramount+.