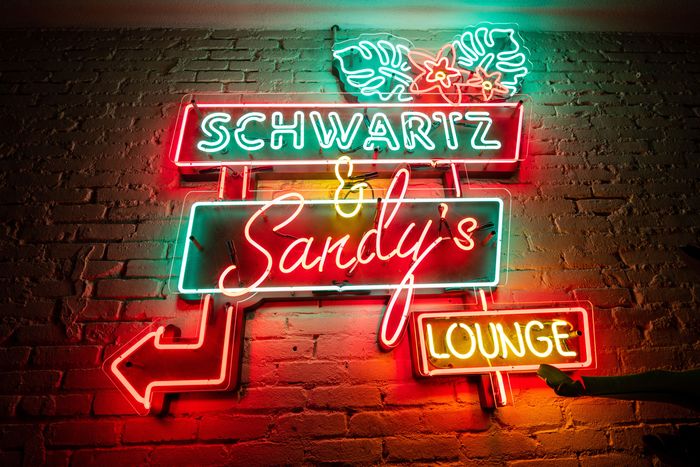 Photo: Amanda Edwards/Getty Images
The all-consuming media circus of Scandoval has been great for Vanderpump Rules. The cheating scandal has been financially enriching for Bravo and a boon for its ratings (Eating for Free dedicated an entire episode to it), while Ariana Madix and Lala Kent have each launched merch lines. But what of the restaurants? Both Tom Tom and Schwartz & Sandy's are heavily tied to Tom Schwartz and Tom Sandoval's brands, and those are plummeting with every Howie Mandel podcast or WWHL appearance. Early in the Scandoval, there were reports that both Tom-affiliated spots were being hit with canceled reservations, Yelp review bombing, and even vandalism. Pump, the literal cornerstone of Lisa Vanderpump's West Hollywood empire, may shut down soon. According to Eater, the restaurant is having trouble securing a new lease and briefly lost its liquor license.
I needed to know: Who is going to Tom Tom now that we as a nation hate Tom and Tom? How's SUR (Sexy Unique Restaurant) doing so many years after Stassi Schroeder last graced it with her presence? And whatever is to become of Pump? These were questions only an embedded reporter could answer. I went to the LVP complex of SUR, Pump, and Tom Tom with my husband and my friend and recent Vanderpump convert Jocey. I then went to Schwartz and Sandy's the night episode ten dropped and ran into Schwartz himself. The following is an account of what I witnessed.
Pump
We begin our VPR triple crown at Pump because we have to cherish our national landmarks while we can. Arriving at the West Hollywood institution, you'd never know the place was in real-estate limbo. It's packed with a line seven deep at the host stand. Inside the dining room, the LVP school of interior design is on display: an altar of candles, fake roses everywhere, shabby chip-stripped wood. (Sometimes I think about dusting Pump and go into a full panic attack.) And adorning one wall is a portrait of Lisa herself done somewhere between Warhol and Nagel in style. Still, it is a pleasant environment, everything harmonizing in either pink or driftwood beige.
Because the host stand is a shitshow, our party opts to sit in the "first come, first served" bar area right next to James Kennedy's DJ booth. We chat up a server who's wearing the skinniest jeans I've ever seen in real life. I ask him how business has been since the Scandoval broke. "Honestly, it's been better," he says. "Tom Tom had a little dip, but it's back now. The only thing is we still don't know about the lease." He says Tom Tom negotiated a new lease for its space, but Pump remains up in the air.
I order the infamous Pumptini, which is a disturbingly sweet take on a Greyhound with a raspberry floating in it. Eerily similar in concept to the Selenatini at Holiday Bar in New York, if Grub Street is to be believed. Standing at the bar, I get a big ol' whiff of decay from the garnish well.
I made a reservation (seating at Pump and Tom Tom are busy enough to need reservations, though they're still available night of) but decide to talk to people in the bar instead. While standing on line to cancel my table, I ask the people behind me what brought them to Vanderpumpland. Two women are Real Housewives of Beverly Hills fans (Dorit is their fave). Neither had seen Vanderpump Rules, nor were they particularly upset that LVP was off Housewives. One of the friends is visiting from Chicago, and she insisted on visiting the motherland while she was in L.A. This would be a recurring theme in my reportage.
I'm second on line at the host stand now. It's been maybe three minutes since I joined the line, and the couple in front of me have been waiting for three or four more minutes than me.
"We've been waiting for ten minutes," the woman says.
"I'm so sorry to hear that," the host replies.
"I think we deserve a drink or something," the woman says. "We've been waiting for 20 minutes."
Spotted:
• Max, Lisa's son who used to bus at SUR but seems to be a manager now.
Tom Tom
"Villa Blanca is where you take your wife; SUR is where you take your mistress," Jocey says (quoting LVP in the series premiere of Vanderpump Rules). "And Tom Tom is, I guess, where you take the gay clock from Beauty and the Beast?" 
It is a steampunk wet dream in Tom Tom. One side of the center bar is an elaborate clock, in front of which bartenders make the signature drink, Clockwork Pink. We're not on the clock side of the bar, however.
Tom Tom is packed. A DJ slash personal trainer bumps the exact right amount of throwback music and obscure Italo-disco-type tracks to keep the night interesting.
I use the restroom, which is up some wrought-iron stairs in the back — but if you pass the picture of Tom kissing Tom, you've gone too far. In the bathroom, I meet another pair of friends consisting of one out-of-towner and one local. The out-of-towner has driven directly to Tom Tom from Vancouver, a straight shot down the coast of both our fair nations. I wish her a pleasant visit.
While peeing, I overhear them talking about completing a scavenger hunt by sneaking into the men's bathroom. The LVP complex is a true adult Disneyland.
Our food arrives. The spicy cauliflower is as good as the hosts of Sexy Unique Podcast say it is. But I do not like how much our server is touching my husband, who is sitting on the opposite side of the banquette as me. "I DO NOT LIKE HOW MUCH THE SERVER IS TOUCHING MY HUSBAND," I write in my notes. Then slack my editor. I can tell the touching is just to finesse pimp my husband, who she assumes will be paying the bill and thus will tip her. Getting irate about this is as naïve as believing the stripper really likes you, and yet I am getting heated. I wonder if it's something about the space. This is the room where it happened, where Ariana allegedly saw the alleged video of FaceTime sex between Tom and allegedly Raquel. The toxic heterosexual reality-TV energy is seeping into my pores.
Spotted:
• Max, again.
• Logan Noh, James Kennedy's ex-BFF.
SUR
We're seated at SUR by Diana, whom Kristen Doute once told to "suck a dick." We're led to the back garden, near where Tom punched Jax in the face in season two. We are next to a big imported antique door and a multiarmed statue of a Hindu god.
SUR is the theme-parkiest of her restaurants. But not a fancy theme-park restaurant like Carthay Circle at Disney California Adventure. It's more like the weird restaurant in Universal Studios where you used to get funnel cake but now it inexplicably serves poke. It's right next to the Waterworld stunt show, so if you decide to brave raw fish at a theme park, you're going to hear people yelling about the Mariner while you do it.
SUR is also theme-park-y because there are a surprising number of kids here. It's 10 p.m. and children are running around by the bathrooms where Jax once fucked Laura Leigh. There is a family next to us who is celebrating Passover with SUR's special Passover menu. The next morning, the restaurant will be serving Easter brunch, sexily and uniquely.
Of the three properties we visit, SUR is the only one not completely packed. Maybe it's because SUR is more of a dinner spot and we're here pretty late. Maybe it's because SUR is the only one not on the main drag of Santa Monica Boulevard. Or maybe it's because SUR is the least pleasant. It just feels B-team.
The back of SUR is dead, but the bar is doing okay. (Pro tip: Scotch is the way to go at SUR — the ten-year Laphroaig is underpriced.) Vanderpump Rules reruns play on a TV, while Peter serves shots to a group. A girl goes, "Woo!" as a second Rihanna song plays. "If nothing else," Jocey says, "SUR is a place to go, 'Woo!'"
Spotted:
• Guillermo Zapata, SUR co-owner.
• Diana Dacheva.
• Peter Madrigal.
Schwartz & Sandy's
I visit Schwartz & Sandy's solo the following Wednesday — episode-ten premiere night. I work until 11 p.m., so I have only one hour to observe and report. And who do I see the second I get there? Tom fucking Schwartz. He is palling around with different parties at the bar.
Schwartz & Sandy's isn't in the WeHo nexus with all the other bars. It's in a Franklin Village strip mall on the same block as Upright Citizens Brigade and a dog groomer. It's not a big foot-traffic area, especially this late on a Wednesday night. But the bartender Kate shows me her spike of drink orders, and it's about four inches of receipts. She calls it a "good stack" for a Wednesday.
Schwartz & Sandy's is the least decorated of all the Vanderbars. (I don't hyperventilate at the thought of dusting it.) The theme is tiki adjacent or jungalow. Lots of botanical prints. I grab the one seat left at the bar and order a Thai Tea Manhattan. It is way better than the variation on an Old Fashioned I had at Tom Tom. Subtle, balanced, with the earthy sweetness of a Thai ice tea. The drinks at Schwartz & Sandy's are the most expensive but still probably cheaper than anything you can get at the LVP Vegas bars.
I talk to the women sitting to my right (the women on my left are getting shots from Tom). They're both local. One is even in the service industry, a bartender. Schwartz & Sandy's is the second spot on what they call their "wild Wednesday." First, dinner at Found Oyster, a seafood place that doesn't take reservations. Then this bar. Then over to Jumbo's Clown Room for a stripper's birthday. A bouquet with dollar bills woven into it sits next to them — for the birthday girl — and it gets a lot of attention from people ordering drinks.
For non-Angelenos, Jumbo's is something between a dive bar and a strip club. Courtney Love used to work there. The dancers pick their own music, and it's more about showmanship and vibes than nudity. "When I go to Jumbo's, it's not about the boobs!" a man sitting at the bar yells. "It's about a good time!"
In true bartender fashion, the woman next to me orders shots of Fernet. But the bar is low on Fernet, indicating that Schwartz & Sandy's has a sizable industry crowd. The place does have Malört, Fernet's upsetting cousin from Chicago. It's apparently a favorite of Schwartz's. My new bartender pal is from Chicago, so she and Schwartz bond over this horrendous brew. "I've always wanted to visit Chicago," he says. He gives the girls a farewell shot of Malört before they're off to Jumbo's. It seems like, Scandoval or not and Fernet or not, people will be partying at a Vanderpump-adjacent property for seasons to come.
I ask Tom if I can write about the Malört in this story since I never gave him the chance to say whether the shots were on the record. "You're a writer? That's awesome!" he says. Then we do shots of Malört, and I get a commemorative shot glass to boot. Schwartz and I chat, and wow. His charm is overwhelming in person, just radiating puppy energy.
The bar is closing and people are asking Schwartz where they should go next. He recommends Birds, a rotisserie-chicken place on the same block. I recommend Lily's Bar, which is further down Franklin. The music is off and the lights are on, and everyone is calling Ubers. "To be continued?" Tom asks as we part. Yes, Tom. I'll be back Friday for a birthday party.
Spotted:
• Tom!