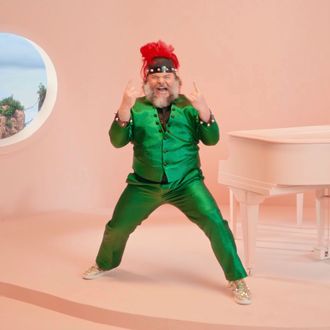 I wish the whole movie looked like this.
Photo: Lyrical Lemonade
We're not gonna say Bowser is the world's best lyricist. The turtle's —
Wait. The dragon's —
No, that's not it either.
The turtle-dragon's power ballad "Peaches," made famous by Jack Black's vocal performance in The Super Mario Bros. Movie, has some pretty generic lyrics. He rhymes "you're so cool" with "we're gonna rule." The chorus is just "peaches peaches peaches peaches peaches peaches peaches peaches peaches peaches, I love you." Somehow, it has five credited co-writers. Baffling.
It's not a good song, but Black's got pipes. So it's delightful to hear that Universal has confirmed that "Peaches" will be eligible for Best Original Song at next year's Academy Awards. It's not like the movie needs awards buzz to re-Koopa-rate its budget, having excelled at the box office. Still, a live performance by Black, followed by a possible Oscar win, will, uh, rule. It'll be … so cool.