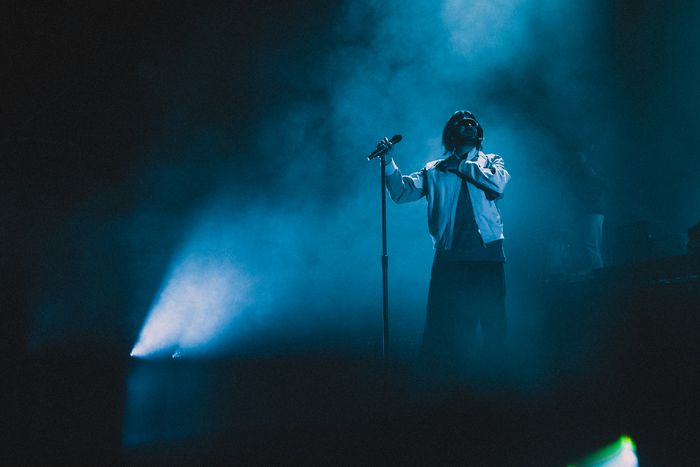 Photo: Julian Bajsel/All Rights Reserved
"So what's the deal with Jai Paul?" my partner sheepishly asked me the night before we left for Coachella.
Which, honestly, great question. Paul's name is typically uttered with the kind of reverence reserved for critical darlings with deep catalogs. I tried to articulate it by going through the history — getting signed to XL off the strength of one song, the ineffable mystique that followed, the Beyoncé and Drake cosigns, the career-derailing music leak. Yet it was hard to describe the influence or deeply felt connection for someone who hadn't technically released an album or even performed live.
If you were around for that first drop, though, you knew. Paul's debut single "BTSTU," which first made the rounds in 2010, was familiar yet eclectic: an airy falsetto, a thudding bassline, those oscillating synths. It was R&B beamed in from an alien planet. Nothing sounded like it. But two years later, he disappeared: Paul's unfinished debut album leaked onto Bandcamp, fracturing any trust the notoriously private artist had with the music industry. Aside from a few new singles — along with an official release of that 2013 incursion, Leak 4-13 (Bait Ones), in 2019 — he went on an indefinite hiatus.
Until Coachella. The mystery of Jai Paul had been hanging over the festival as soon as his name appeared on the lineup. Um… that Jai Paul? Would he be playing new music? What did he even look like now? (Answers: Yes, yes, and with much longer locks than he had on his Bait Ones cover.)
To those on the ground, the set was a full-circle moment. I overheard fans detailing the same plot points I had given my partner, telling their own friends they dragged along that they had to see Jai. Sylvia Lee, 25, said she originally discovered Paul in 2013 on Tumblr, thanks to the infamous leak. "It was the first time I heard international music in a modern way, [with] South Asian sounds being used organically," rather than just simply for the sake of representation. One festivalgoer loudly explained to his girlfriend the idea behind the Paul Institute, the quasi-music label Jai started with his brother, A.K.. Another in a "niche internet micro influencer" t-shirt earnestly commented that Paul's "leak is still one of the craziest things I've ever heard."
Days earlier, Paul admitted that while he was excited at the prospect of finally playing live, he was "absolutely shitting it" over the set — understandable, considering his first performance ever would be at Coachella. But those nerves quelled once he showed up. Jai Paul was, indeed, alive and well — if not predictably insular.
True to form, he spent much of the set in the shadows; his only words to those gathered were a simple "thank you." Blunt smoke rose above the crowd as the public-averse Paul avoided a literal spotlight, creeping around fake rock forms while powering through "Zion Wolf Theme," "Do You Love Her Now," "Jasmine," and a new track, "So Long," which he sang in an uncharacteristically deep register. Paul flashed some smiles during classics including "Crush" and "100,000," but he immediately retreated to the safety of his visuals' camouflage.
When he launched into "BTSTU," he did it with a kind of unsaid acknowledgement: this was the song that got him here. That same thread followed when he ended his forty-minute set with the classic "Str8 Outta Mumbai." Of Paul's much-mythologized music, "Mumbai" is the one that still lands hardest. It's a deeply unique work, incorporating Ravi Shankar samples over stacked, stuttering synths. The effect is a near-overwhelming wall of sound. The hardcore fans went bonkers when Paul finally performed it: water bottles were flying, phones began recording, hands became outstretched. It felt like we were all joined together, rooting for Jai.
Unfortunately, to casual fans, all of this likely didn't mean much. If you were unaware of Paul's work beforehand, you probably didn't have the same reaction to the performance that I did when I first heard "BTSTU" years ago. My partner said they would have left if it wasn't for me, and I heard others confused by the vocal mix, which, like Leak 4-13, was thick and muddy. Whether this was intentional or not was besides the point. Maybe this set wasn't supposed to showcase the brilliance of Jai Paul to those who'd just heard of him, or replicate the groundswell he unleashed more than a decade earlier. Maybe it was just a (very) public homecoming for those who'd stuck with him all these years — and a message that he was finally taking his artistic agency back. More than that, it boded something exciting: Jai Paul had briefly returned, and was hopefully here to stay.