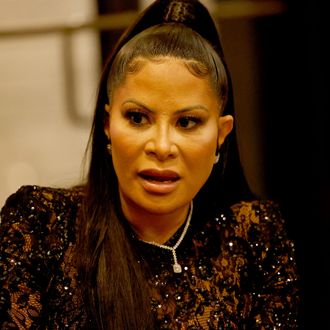 Photo: Randy Shropshire/Bravo
When Jen Shah reported to federal lockup on February 17 for involvement in a telemarketing scheme that targeted senior citizens, it seemed she was still on good terms with her lawyer, Priya Chaudhry. In a statement shared right before her client's incarceration, Chaudhry spoke highly of the Real Housewives of Salt Lake City star's commitment to making things right. "Jen Shah's resolve to make her victims whole and to turn her life around is unyielding. She is committed to serving her sentence with courage and purpose, fueled by her desire to make amends for the hurt she has caused and to help others in her new community," the attorney, who has also represented disgraced producer Paul Haggis in his civil rape case and actor Jonathan Majors in a recent alleged domestic assault, said in a statement. "No obstacle will deter Jen from making the most of her time in prison and she's determined to make restitution to those whose lives she has impacted." A little more than one month later, however, Chaudhry and her colleagues asked to withdraw from the case, citing unpaid legal fees and expenses — claiming Shah had stiffed them to the tune of $124,422.95. (On Monday, the judge agreed to let them off the case.) The brash TV personality is in a Texas prison camp for about another five and a half years and owes her victims $6,646,251.00 in restitution, raising a big question: Will Shah's former lawyers ever get paid?
Several longtime attorneys tell Vulture the outlook isn't sunny for Shah's onetime legal team. Trying to collect would likely involve a complicated legal battle that could wind up costing more than the debt. "It's almost impossible," Neama Rahmani, president of West Coast Trial Lawyers, said of attorneys trying to collect money from nonpaying clients. "Even if you're owed money, you can't collect the money that's owed unless you get a judgment — so you have to file a lawsuit against your former client." When attorneys do that, their clients can hit back in messy ways. "As soon as you do that, your client is probably going to say that you committed [legal] malpractice for some reason usually. It's super-nasty." For that reason, most lawyers don't even pursue litigation. That said, Jen Shah is Jen Shah. She could be a wild card.
"Jen Shah is not your typical criminal defendant," Rahmani said. "She's taken some pretty extreme positions. She maintained her innocence up until the 11th hour." As for Chaudhry's chances for actually collecting, Rahmani described them as "slim." Chaudhry did not immediately respond to a request for comment.
Rachel Fiset, co-founder of Los Angeles–based Zweiback, Fiset & Zalduendo LLP,  explains that her lawyers would have to sue and receive a judgment before they could make moves to collect. Lawyers can put a lien on a client's property, which, in simple terms, is basically a legal claim to assets that would cover the debt. Judges generally have to green-light the lien. Then, Fiset said, the court determines what the appropriate payments are. "It's like paying off a debt," Fiset said. It's important for an attorney to know where an ex-client's money is kept or where it could come from in the future. For example, could Shah get royalties for her old Bravo appearances? Does she have any property that could be sold off? Fiset pointed out another twist: If the person who owes money winds up broke and declares bankruptcy, "then the attorney can step in line" and become one of potentially many people whose prospects of getting paid are questionable. In other words, the possibility of success is iffy, and suing clients is too big of a pain.
Julie Rendelman, a longtime New York City defense attorney, said lawyers try to avoid situations like this by getting money before a case is done. "There are clients who go to jail and still pay their legal fees — that happens all the time," Rendelman said. Still, "usually an attorney would try to get their fees completed before their cases are finished." It's easier. "An attorney can sue a client if there is a contract in place; however, most attorneys would be loath to take that on because they are now incurring legal fees to pursue the civil case on top of the strong possibility they will never see payment." So it's expensive and inconvenient and could lead to more nasty court interactions — which leads us to what may be the obvious takeaway when it comes to expensive cases like Shah's. "If you're going to take on one of these fraud cases, you've got to make sure you've got a huge retainer to guarantee they can pay your legal fees," Rahmani said.
The rep listed on Shah's Instagram page did not immediately respond to Vulture's request for comment about the allegedly unpaid fees. We can only hope Shah will include this drama in her purportedly upcoming prison production.