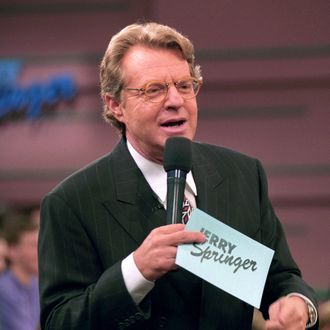 Jerry Springer, who hosted nearly 5,000 episodes of the iconic talk show bearing his name, has died. He was 79. Springer's family told WLWT5, the Cincinnati channel where he used to work, that he'd died at his home in the Chicago area. "Jerry's ability to connect with people was at the heart of his success in everything he tried — whether that was politics, broadcasting or just joking with people on the street who wanted a photo or a word," said Jene Galvin, a family friend and spokesperson. "He's irreplaceable and his loss hurts immensely, but memories of his intellect, heart, and humor will live on."
Springer began his career in politics — elected to the Cincinnati City Council in 1971 and resigning in 1974 over a controversy that he'd hired a prostitute; he was reelected in 1975 and even served as mayor for a year in 1977. After a failed run for Ohio governor in 1982, he pivoted to broadcasting at WLWT, where he began his eponymous talk show. While Jerry Springer was originally a political show, it soon pivoted to the confrontational tabloid style it became known for. The show became a ratings monster by the late 1990s, even toppling The Oprah Winfrey Show for a time.
Jerry Springer, and its host, became widely controversial and parodied for the show's subjects and violence between guests. Yet it ran from 1991 to 2018 for 27 seasons and 4,969 episodes. Springer hosted many other shows during that run — including two early seasons of America's Got Talent, the dating show Baggage, and multiple pageants. After Jerry Springer ended, Springer helmed a similar show, Judge Jerry, for three seasons from 2019 to 2022.