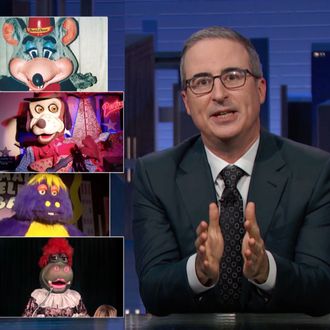 One Night at Johnny's.
Photo: HBO
Home Owners' Associations are real, they're weird, they're NIMBY-ist, and they are totally irrelevant to anyone under the age of 35. Or, at least, that's what John Oliver bet on during this week's episode of Last Week Tonight. After opening the episode with an entirely youth-relevant segment on Tennessee's actions surrounding gun control, Oliver switched to talking about HOAs. Unfortunately, Oliver is all too aware that this would alienate many young audience members, because, "you will never own a home," he says. "Sorry, that was the deal you made when you decided to be born after 1988." But Oliver is ever the enterprising Brit, and he doesn't want to waste a whole episode losing the young'uns, especially after he already got them on his side during his gun-control segment by making a joke about how the Nerf mascot "Murph the Nerf" looks like he's covered in penises. So Oliver and his team put together an entire, parallel, 28-minute-long segment about Chuck E. Cheese.
To access this episode, Gen-Zers must simply go to LastSqueakTonight.com, where they can learn about the history of Charles Entertainment Cheese, the consistent violence that is being perpetrated there, and the fabulous vaudeville singer Helen Henny. "Just look at Mother Darling," Oliver says of Helen, in a section clearly written by a writer who has not seen Joker but is still excited for Joker: Folie á Deux. "Face? Beat. Body? Snatched. Hair? Teased so much it's in therapy as we speak. That is a mother clucking lip sync assassin right there." The Gen-Z members of Vulture salute you, John Oliver. The rest of the staff knows a lot more about suburban real-estate policies, which is cool too.