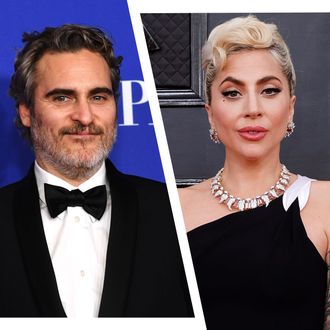 J-j-j-joker face.
Photo-Illustration: Vulture; Photos by Kevin Winter/Getty Images and Frazer Harrison/Getty Images for The Recording Academy
Oh, oh, oh, oh, she's in love with Jo-kuh-uh, Jo-kuh-uh! Italianx icon Lady Gaga will be starring in Joker: Folie à Deux, the sequel to Todd Phillips's Oscar-winning film Joker, giving the Joker franchise a guaranteed in with the gay community (next up: Folie à Deux jockstraps). Joaquin Phoenix will be back in the role of Mr. Joker, and the movie will be released October 4, 2024, a date that cannot come fast enough in this household. Gaga has been confirmed to be playing Harley Quinn, though probably not our favorite version (that would be the one in a relationship with Poison Ivy). Still, giving Gaga the opportunity to take something ridiculous seriously always has us going, How great! The film reportedly will be a musical. What we also know, simply based on previous experience, is that the press tour — L. Gaga's chosen venue for prolonged performance art — will be as fun to watch as the actual film, if not more so.
Speaking of performance art, there's nothing that screams performance like a holiday filled with grand gestures. Phillips shared the first look of Gaga and Phoenix post-smooch and covered in face paint for a little Valentine's Day surprise.
But one deux does not make a filmé. Luckily, some other cast members have been confirmed. The original Joker girlie, Zazie Beetz, will be returning for this second film. King of Ireland Brendan Gleeson, Queen of John Malkovich's Brain Catherine Keener, and Jester of Industry Harry Lawtey are also confirmed to be starring in the upcoming film, according to Variety. We just hope Gleeson is ready to go full Method. Not for the film, of course, but for the media.
And now, a little treat for the girls and the gays. We finally got our first full look at Lady Gaga as Harley Quinn on March 25, and it was worth the wait. Gaga was spotted filming the Joker sequel in New York on Saturday, in full harlequin regalia, including a shiny red blazer and mime makeup — a far cry from Margot Robbie's pop-punk take on the character.
Sadly, the era in which Lady Gaga's Joker 2 shoot coincided with Trump's indictment has ended. Mama Monster posted a farewell to commemorate the wrap of filming on April 5. She signed the post "X, Harleen." That means we have several whole months without Gaga-as-Harley content before the press tour. Please, please, bring it like you did with House of Gucci, Stefani.
This post has been updated.