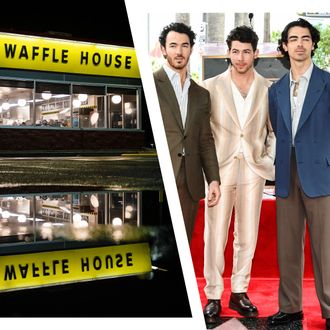 Jonas Brothers and the restaurant they definitely didn't actually write a song about.
Photo-Illustration: Vulture. Photos: Getty Images
Wait, who ordered the new Jonas Brothers song? The band released their new single, which is seriously called "Waffle House," off their upcoming album, which is equally seriously called The Album. (Pair it with lead single "Wings," and you've got a meal.) It's smothered and covered in '80s rock pastiche (the groovy synths and keys, the big flashy chorus), as the band sings about their childhood — including, yes, "deep conversations at the Waffle House." "This song isn't about a restaurant, it's about coming together with the people you love and making your dreams come true," the band explained in a statement. Maybe so — but what the song has left us dreaming about is a midnight meal of hash browns, eggs, and waffles.