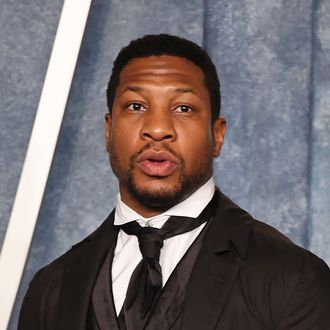 Jonathan Majors.
Photo: Getty Images
Jonathan Majors's alleged victim was granted a temporary order of protection on April 27 — just ahead of Majors's May 9 hearing on assault and harassment charges. "Today a judge granted a Full Temporary Order of Protection for the victim, per the People's request and with the consent of defense counsel. (At the time of arraignment, a Limited Temporary Order of Protection was granted)," the Manhattan District Attorney's Office wrote in a statement to Variety. The Marvel actor was arrested on domestic-violence charges on March 25, following a dispute with a 30-year-old woman, according to the New York City Police Department. "He has done nothing wrong," a representative for Majors told Vulture. "We look forward to clearing his name and clearing this up."
According to the NYPD's statement, police responded to a 911 call at a Chelsea apartment on the morning of March 25. "A preliminary investigation determined that a 33-year-old male was involved in a domestic dispute with a 30-year-old female," the statement reads. "The victim informed police she was assaulted." The statement continues, "Officers placed the 33-year-old male into custody without incident. The victim sustained minor injuries to her head and neck and was removed to an area hospital in stable condition." Majors was arrested on charges of strangulation, assault, and harassment. He is expected to appear in court on May 9.
On April 19, Variety reported that more women had come forward with allegations against Majors and were working with the Manhattan DA's office ahead of Majors's court date. The story alleges that the victim in the Manhattan case worked on Ant-Man and the Wasp: Quantumania.
The U.S. Army has postponed a campaign featuring Majors following the arrest. "The U.S. Army is aware of the arrest of Jonathan Majors and we are deeply concerned by the allegations surrounding his arrest," a spokesperson for the Army Enterprise Marketing Office told Deadline. "While Mr. Majors is innocent until proven guilty, prudence dictates that we pull our ads until the investigation into these allegations is complete."
An attorney for Majors, Priya Chaudhry, wrote in a statement on March 25, "Jonathan Majors is completely innocent and is provably the victim of an altercation with a woman he knows. We are quickly gathering and presenting evidence to the District Attorney with the expectation that all charges will be dropped imminently." Chaudhry goes on to claim that the evidence "includes video footage from the vehicle where this episode took place, witness testimony from the driver and others who both saw and heard the episode, and most importantly, two written statements from the woman recanting these allegations." The woman, Chaudhry alleged, "was having an emotional crisis, for which she was taken to a hospital yesterday." Chaudhry reiterated that she and Majors "expect these charges to be dropped soon."
This post has been updated.