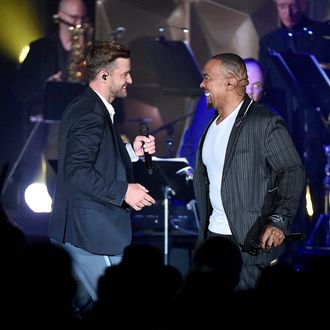 Harbingers of sexy.
Photo: Theo Wargo/Getty Images
A less-than-wise man once said, "What goes around comes back around." So now that Justin Timberlake got 2018's aggressively mid country-pop album Man of the Woods out of his system, his longtime producer Timbaland says JT's new album will be "fun Justin." Don't worry, we're not talking Trolls soundtrack fun — speaking to Variety, Timbaland said his idea of fun is closer to Timberlake's golden mid-aughts years. "It's like FutureSex/LoveSounds but nothing too heavy, just giving you what you'd expect from us: not overthought, the lyrics are not so deep, it's bob-your-head, dance-to-it music," Timbaland explained. (Mind you, we've heard that before.) He added that he's pretty much done with his work on the project but doesn't know when Timberlake will release it.
Declaring the return of "fun Justin" also meant admitting that Woods may have been less than fun. Without mentioning the album directly, Tim did warn about aging out of your music. "We've both seen a lot of life, but you can't overthink it because of that, you have to bring out the 13-year-old, 18-year-old again, you know?" he said. "If not, you can get into the old-fogey stage real quick." When asked about Woods, though, he defended Timberlake making a "personal" statement. "I thought it was a great thing for him to do," he said. "Now we're back to the essence." Get ready for sexy to be brought back yet again.