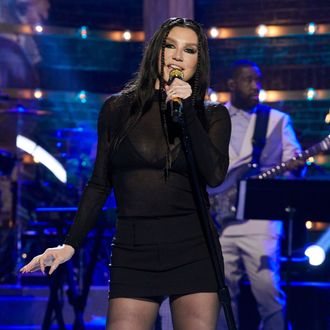 Photo: Trae Patton/NBC via Getty Images
Kesha's doing not one but two hits. The pop singer-songwriter dropped the double lead singles off her new album, Gag Order, "Eat the Acid" and "Fine Line." The former is eerie and catchy, with some bubbling synths that never quite explode. (It comes with an equally discomforting visualizer.) But it's the latter that's going to start some conversation. "Fine Line" is a check-in with Kesha after the past three-plus years of her legal battle against her alleged abuser Dr. Luke, whose label she's still forced to release music under. "All the doctors and lawyers cut the tongue outta my mouth," she speak-sings on the intimate track, referencing her album's title. Almost all the lines could be quoted here, but let's skip to the final twist of the knife: "There's a fine line between what's entertaining / And what's just exploiting the pain / But, hey, look at all the money we made off me." While her contract remains unclear, the album could be her last for Luke's Kemosabe Records, and will likely be her final statement before their case finally goes to trial in July.
Kesha first teased the two songs last month, when she posted them to SoundCloud for a few hours. They're some of her first releases since her 2020 album, High Road, and a first taste of her collaboration with fellow free spirit Rick Rubin, who co-produced Gag Order at his Shangri-La studio. Hear more of Kesha unleashed on May 19.