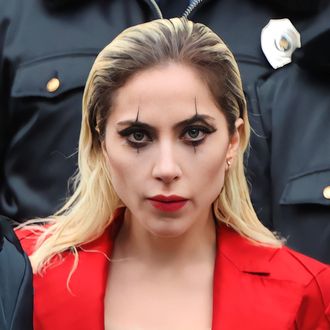 Is that Haus Labs?
Photo: GC Images
You know what they say … there can be 100 people on a New York City street, and 99 of them aren't Lady Gaga as Harley Quinn, but all it takes is one Lady Gaga as Harley Quinn and it just changes your whole life. Gaga has been spotted filming the Joker sequel Joker: Folie à Deux from City Hall (just days before Trump's indictment) to the Bronx, giving us our first real look (with Joaquin Phoenix joining soon after) at the singer's take on the iconic DC character in all her phases. There's Harley Quinn in full-on circus steampunk: bright-red blazer, mime makeup, and, of course, harlequin diamonds. But then there's also normie Harley Quinn, climbing the "Joker" stairs wearing ankle booties and a slouchy boho bag. But the favorite may just be absolutely mental Harley Quinn, with smeared makeup, crazy eyes, and a cigarette hanging out of her mouth. Knowing what we know about how deeply Gaga commits to acting, we can be sure that she's fully immersing herself in all of these characters — something the pictures only further prove. To keep track of all the versions of Harley Quinn walking the streets of New York, we've organized the Lady Gaga photos by what phase we think she's in, based on her outfit, her demeanor, and where she's standing.
Pre-Joker Harleen Quinzel
Imagine finally signing up for BetterHelp and this is who answers.
Yeah, we'd follow her off the deep end.
Mid-obsession
Suddenly inspired to protest outside of Netflix's Love Is Blind live reunion.
HarlIvy arc when?
Full Harley Quinn
It's the gritty origin story of the "Telephone" music video, featuring Beyoncé.
Wait, so in this universe Joker is like People's Sexiest Criminal?
Matching haircuts and deranged clown makeup is an early sign of codependency, and Doctor Harleen Quinzel should really know this.
Just dance!
Re-create this on the Joker steps.
This post has been updated throughout.