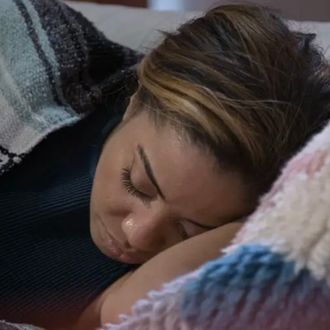 Update April 16, 6:36 p.m. PT: Netflix has tweeted that Love Is Blind will no longer be airing a live reunion at all. "To everyone who stayed up late, woke up early, gave up their Sunday afternoon … we are incredibly sorry that the Love Is Blind Live Reunion did not turn out as we had planned," it wrote. "We're filming it now and we'll have it on Netflix as soon as humanly possible. Again, thank you and sorry." Variety tweeted that the reunion would be streamed live for the Los Angeles viewing party, and that the rest of us plebs will have to wait for something to stream later. However, some users report the show streaming live for them.
Original story follows.
#LoveIsLate is trending on Twitter, as fans wait less than patiently for the Love Is Blind live reunion. The live event was supposed to begin at 8 p.m. ET, but as of the time of writing, it had yet to begin. Netflix has been inching toward the livestreaming space, beginning with the Chris Rock special Selective Outrage. Well, the outrage at having to wait for our reality-show lovers to appear was general. Vulture reporters at the live-watch event say that crowd morale is still high, however, and the drinks offered by Netflix are strong: "Not a care in the world that there's a stream supposed to be happening." Online viewers, however, were processing their annoyance with memes.