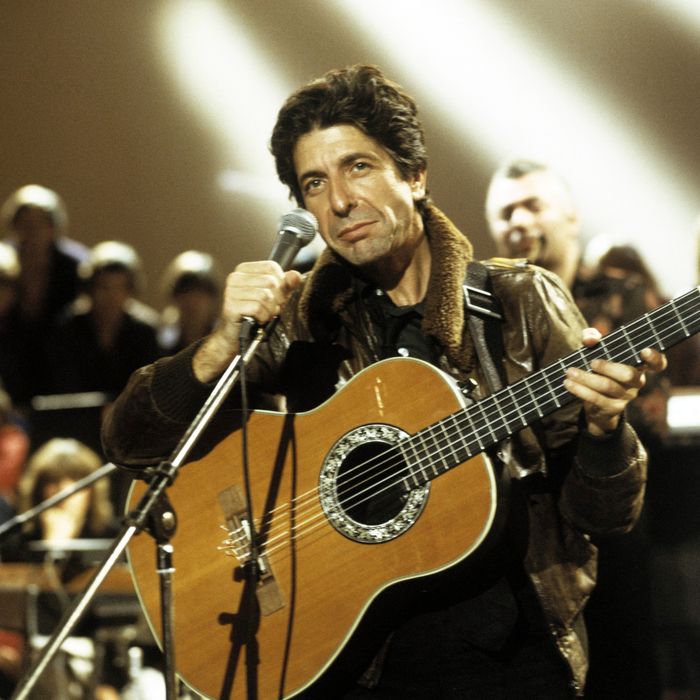 Photo: kpa/United Archives via Getty Images
Are we living in a golden age of Leonard Cohen references? The great songwriting master has been gone six years, but his spirit seems to be everywhere these days — haunting Lana Del Rey, Lucy Dacus, and even the fictitious nepo baby known as Connor Roy. But some Cohen references land better than others. Here's a little guide to how you should and shouldn't be referencing and/or covering a Leonard Cohen track.
DO: Lean into the eternal melancholy of Cohen
Last Sunday's Succession episode featured a memorable karaoke gag in which large adult son/rancher Connor Roy (Alan Ruck) croons a dour rendition of "Famous Blue Raincoat" at a karaoke gathering to the horror of the other Roy children. ("This is Guantánamo-level shit," quips Roman.) Look, there's nothing wrong with moping your way through a downbeat classic at karaoke night, particularly after being abandoned by your fiancée (sad karaoke is an underrated category), but you gotta know your audience!
DO: Harness the prophetic wisdom of "Anthem"
Few late-period Cohen songs have haunted our modern era quite like "Anthem," a dirgelike examination of brokenness, renewal, and moral responsibility, infused with Kabbalistic influences. The song's most recognizable lyric, "There is a crack, a crack in everything / That's how the light gets in," has been referenced in recent tunes by both indie supergroup boygenius and Lana Del Rey, whose six-minute slow-burner "Kintsugi" repeats the phrase: "That's how the light gets in." The Lana interpolation ultimately rings more true — both because she artfully weaves the lyric into a song about grief and heartbreak and because it slots right in with the singer's long-running fixation on '70s singer-songwriters (Bob Dylan, Joni Mitchell, et al.).
But DON'T: Quote the lyrics ironically
Which brings us to that new boygenius tune, a one-and-a-half-minute ditty fittingly titled "Leonard Cohen." Lucy Dacus sings: "Leonard Cohen once said / 'There's a crack in everything, that's how the light gets in' / And I am not an old man having an existential crisis / At a Buddhist monastery writing horny poetry / But I agree." No disrespect to Dacus, who has emerged as one of the most talented songwriters of her generation, but why quote Cohen at all if you're only going to cheapen the sentiment while adding little insight of your own? (Not to mention the nitpicky point that Cohen wrote "Anthem" well before his five-year stint at the Mount Baldy Zen Center.) The lyric has the same tossed-off-tweet energy as Phoebe Bridgers's 2020 dig at Eric Clapton's "Tears in Heaven" (a far worse song, granted, than "Anthem").
DO: Consider lesser-known songs for your Cohen cover
Cohen wrote a lot of brilliant songs that aren't called "Hallelujah" or "Suzanne" — and some of them arrived just last decade during the end-of-life swell that produced three haunting, autumnal albums: 2012's Old Ideas, 2014's Popular Problems, and 2016's You Want It Darker. A husky-voiced Iggy Pop recently put an apocalyptic spin on "You Want It Darker," the 2016 single that Cohen released as a kind of chilling prophecy just before he died, for the tribute album Here It Is: A Tribute to Leonard Cohen, which also features stars like Peter Gabriel, Norah Jones, and James Taylor covering less-celebrated Cohen gems. Meanwhile, PJ Harvey took a more soulful approach to "Who by Fire" last year for the Bad Sisters soundtrack.
And obviously DON'T: Cover "Hallelujah"
Cohen once suggested it was time for a moratorium on "Hallelujah" covers in movies and television. That was in 2009! A whole lifetime (and a certain fateful SNL episode) ago. And yet, even in the year of our Lord 2023, the cliché of the American Idol "Hallelujah" cover improbably lives on, like the disposable camera or Henry Kissinger. Just last week, a contestant named Cam Amen delivered a typically overheated "Hallelujah" performance and earned a "Platinum" ticket. Don't American Idol hopefuls know any other Cohen tunes? How about "Don't Go Home With Your Hard-on"?
Though you can ALWAYS: Thoughtfully trace the cultural journey of "Hallelujah"
Last year, Cohen's most recognizable song was the subject of Hallelujah: Leonard Cohen, A Journey, A Song, a fine documentary that offers both an overview of Cohen's career and a revealing deconstruction of the song's journey from Various Positions deep cut to '90s John Cale/Jeff Buckley gem to Shrek needle-drop to modern standard. Worth a watch! It's on Netflix. (Also check out Alan Light's incisive book The Holy or the Broken, on which the doc is based.)
DO: Deliver a stirring "Everybody Knows" needle drop
I'm Your Man may well be Cohen's best album, but it doesn't get an awful lot of attention in the film-and-TV sync department, that one very NSFW Take This Waltz scene notwithstanding. Yet Ted Lasso ended a recent episode with "Everybody Knows," one of Cohen's most alluringly dark and prophetic tunes. Was there a larger meaning to the needle drop? Maybe. Some critics have argued that the song's references to infidelity and casual sex obliquely comment on Ted's marital problems. But it's also just an incredible song that epitomizes I'm Your Man's uneasy juxtaposition of glitzy synth-pop timbres with Cohen's gruff indictments of a broken society.
DON'T EVER: Use "First We Take Manhattan" lyrics to romanticize missile strikes
Ok, fine, Brian Williams did this back in 2017, but it's still ingrained in my memory. Bad Brian!