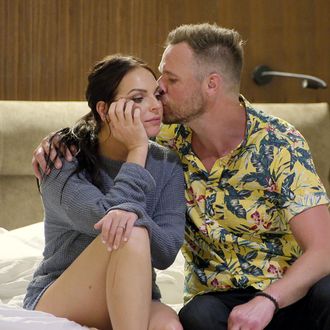 Danielle Ruhl, one of the accusers, and her then-partner, Nick Thompson.
Photo: Netflix
It looks like Love Is Blind might be turning a blind eye to the well-being of its contestants. In a recent Insider report, former contestants allege mistreatment by production company Kinetic Content. Complaints included a lack of sleep for contestants, untenable living situations, and limited access to food and water alongside claims that producers ignored mental-health emergencies. Three contestants told Insider that they had panic attacks while filming — including season-one contestant Briana Holmes, who quit the show after cameras followed her into her trailer. "They literally chased me off of the set to the trailers, cameras in my face," Holmes said. "I'm like, 'This is too much. I don't want this. I don't want to be here. I don't want to do this.'"
Season-two contestant Danielle Ruhl revealed that she was surprised to have passed the mental-health screening after she disclosed that she'd attempted suicide in the past. When she was having suicidal thoughts on the show, she told producers: "I kept telling them, 'I don't trust myself. I've tried committing suicide before. I'm having suicidal thoughts. I don't think I can continue in this.'" But they convinced her to stay on the show with promises that she and her match, Nick Thompson, would be a fan-favorite couple. The two got married on the show but later divorced.
In a statement to Variety, Kinetic Content denied any wrongdoing: "The well-being of our participants is of paramount importance to Kinetic. We have rigorous protocols in place to care for each person before, during, and after filming."