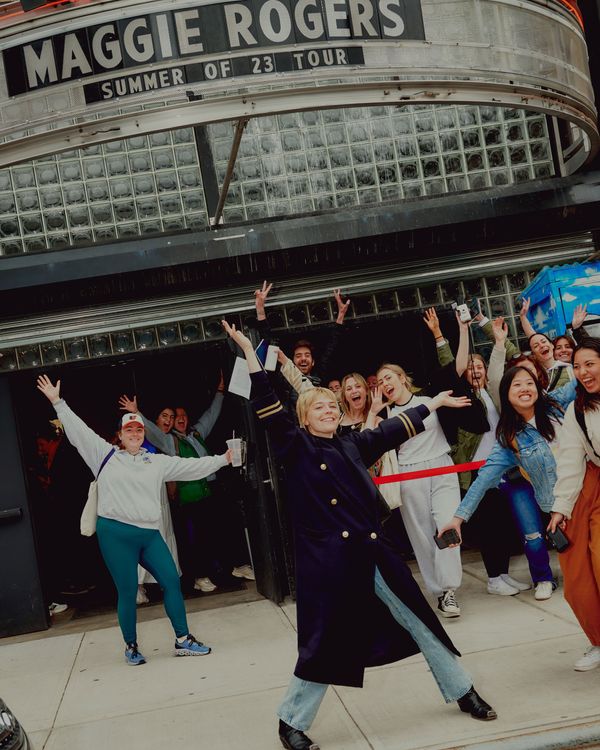 Maggie Rogers arrived at Music Hall of Williamsburg on Thursday morning in a military-style wool overcoat, jeans, and steel-toed Chelsea boots. One fan approached her with a gift — a hand-knit navy-blue sweater — while others shyly asked for selfies, beaming with satisfaction before getting back on line. The crowd of well-dressed 20- and 30-somethings had been queuing in front of the venue since 5:30 a.m. in the hopes of copping tickets to Rogers's Summer of '23 Tour sans pesky ticket fees and scalpers. "I have never done this before," said Elaina, the first on line with her partner, Trevor. "I'm a huge Taylor Swift fan and was a victim of the Ticketmaster debacle, so I think this is a really cool idea."
The "Ticketmaster debacle," of course, refers to the bungled presale for Swift's blockbuster Eras Tour, in which many Swifties were forced to pay exorbitant fees or, worse, leave empty-handed after enduring hours of glitchy maps and wait times. Following the presale round, the live-event overlords canceled the public on-sale. Mass anger ensued. The federal government called Ticketmaster to a Senate hearing; Swifties sued Ticketmaster. The consensus both online and offline was that the company had to change.
But Rogers didn't have time for Ticketmaster — or any online ticketing platform for that matter — to get its shit together. Instead, she chose to sell tickets to her tour the old-fashioned way: in person. "in an effort to eliminate bots and lower fees — i'm going analog. come buy a ticket like it's 1965," she tweeted on April 6. "i'll be in person selling tix at music hall of williamsburg tomorrow for the forest hills show. see you there!" Prices for the New York shows, which will take place at Forest Hills Stadium on July 27, ranged from $25 to $125 with a ticket limit of two per fan. While other venues have different scales, no ticket will be higher than $125.
The vibes outside the sale felt part protest, part fan meetup. It was all very personal. "I'm overwhelmed seeing everyone," Rogers told me. "It's nice to just be able to get moments with fans and to come together and to be able to know that these tickets are gonna go directly into the hands of fans. And that I can put them there." She got a little emotional: "I have been fighting back tears, walking around this line."
Before Rogers arrived, a man with a Rogers-themed tattoo demonstrated the community-driven nature of the gathering. He got to the box office at 7:30 a.m. and had a prime spot near the front. "I think that there's this perception, especially after the Taylor Swift experience, that all of the fees go into the artist being greedy, which I think is really concerning; it's not the artist being greedy," he said. A different man — his name is Brad, and he brought his dog, Khaleesi, named after Daenerys Stormborn of the House Targaryen — knew someone who got screwed over during the Eras Tour sale and was also happy with Rogers's decision. "I love that she's doing this, because I do think it's insane to get tickets right now. And not even just Ticketmaster," he said. "Fees are really expensive anywhere — on any platform for the most part." Brad added that the situation "left a bad taste in my mouth."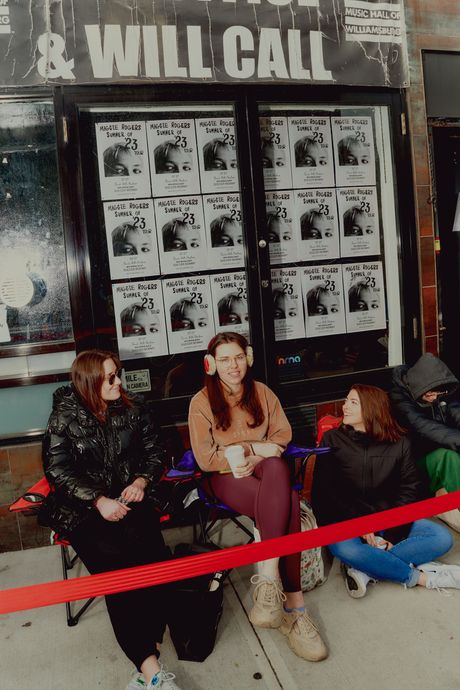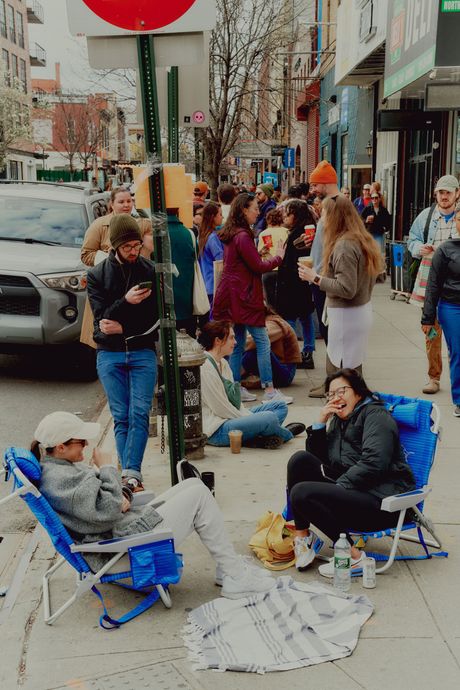 The unique opportunity also meant fans weren't going to let their day jobs stop them from queuing up. Maddy, a social-impact consultant whose go-to Rogers cut is "Fallingwater," held her laptop as she worked from the line, having traveled from the Upper West Side to get her hands on tickets. A woman nearby said she was at a doctor's appointment in order to skip work ("Horses" is her favorite Rogers song). Allyssa, who works at a gun-violence-prevention nonprofit, told me about how they had seen Rogers over a dozen times in concert and simply had no choice but to wait on line after the singer-songwriter's Radio City Music Hall performance left them wanting more. When I asked her about Ticketmaster, she simply said, "Fuck them."
No one seemed to have warm feelings about the service. As I approached the middle of the line, I heard a pair of women named Bianca and Nicole loudly condemning it. The former told me she failed to secure seats for Eras and Jonas Brothers. They both said that in-person sales were more equitable but noted it's not possible for everyone. Angelina, sporting a letterman jacket and Coach saddle bag, thinks Ticketmaster ruined the live-music experience and that "something needs to be done" about it. Justin, a stylishly dressed software engineer in a beige vest and matching button-down, thinks the company needs to give control back to the artists. Fellow software engineer Sathvi called the Swift situation "a shitshow." Rogers's decision to take on these issues really moved one woman. "I saw this yesterday at work, and I was like, This is sick!" she told me with excitement. "There has to be a way to overcome the bots. I haven't gone in person to get a ticket for even a movie in years, so this is really cool, and it's a great way to have people that actually care [about the concert] come see it. And the prices are so reasonable. It's not just a certain demographic who listen to her."
So could future in-person sales solve any pressing issues about ticketing? Rachel, who stood on line carrying her skateboard, sees it like this: "I think it solves the problems for the people that are here today, but [Ticketmaster sales are] still gonna happen, and bots are always gonna jack up the prices really, really high and make tickets just kind of unattainable for other populations." As I left the venue, 45 minutes after tickets had gone on sale, the line looked longer than ever, still snaking around the block and down the adjacent street, a legion of music lovers not looking to surrender.