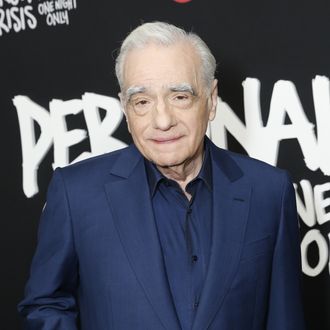 Photo: Rob Kim/Getty Images
A whole cottage industry has been created from Martin Scorsese's movie opinions. What's really cinema, what he'd do differently if Goncharov was made today, whether anything looks good on a phone — it's all been covered. But not enough people are playing attention to what Marty (his friends call him Marty) watches on TV. Scorsese has weighed in on the small screen more and more, especially after he began working in that medium. Most recently, it was announced that Scorsese would be working on adapting Gangs of New York for television. We scoured the archives (Francesca Scorsese's TikTok) and came up with this list of what Martin Scorsese does or does not watch on TV.
Marty Doesn't Love Raymond
On Marc Maron's WTF podcast, Ray Romano said Scorsese didn't know who he was when he cast Romano in Vinyl. "Scorsese did the pilot and I had to go on tape for him. The cool thing was, I went on tape and the response we got back was, 'Yeah, Marty likes it. He's in the running. And Marty wants to know who he is. He's never seen him,'" Romano said. "And my agent was like, 'So he's never seen the show?' And they go, 'No, no, no, he doesn't know who the guy is.'"
Scorsese Is a Curb Head
Scorsese told The Independent that Curb Your Enthusiasm inspired him to break into TV with Boardwalk Empire. "Basically, I started watching Curb Your Enthusiasm, that is the key one," he said, "that is when I realized you could do something on television." Scorsese even appeared in a season 3 episode of the show.
Scorsese Couldn't Connect With The Sopranos
In the same Independent interview, Scorsese said he was meh on The Sopranos. ""I don't have time to watch any other shows, the famous ones. I've seen a few episodes of some, in fact. I only watched The Sopranos once or twice," he said. I just couldn't connect with it." David Chase found dead in a ditch, executed gangland-style.
Martin Scorsese May Know About #Scandoval
In the season 6 reunion of Vanderpump Rules, Lala Kent said that Marty was absolutely Vanderpumped. "Martin Scorsese loves the show," Kent said, which prompted Stassi Schroeder to interject "Are you shitting me?" Kent's then-boyfriend was the now-disgraced geezer teaser producer Randall Emmett. Emmett produced Scorsese's 2016 film Silence, which is presumably how he came know the VPR world.
Whether Scorsese has kept up with the show after Emmett and Kent split isn't known. If he's anything like the average Pump-head, he fell off around season 8 but got back into it this year because Sandoval cheated on Ariana and how could he? After all they've been through?!