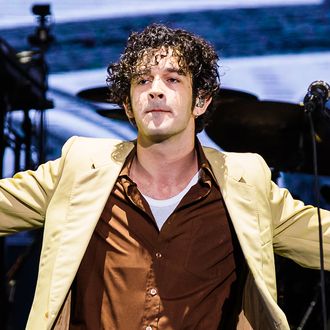 Photo: Mauricio Santana/Getty Images
Add attempted apologies to the list of random things that The 1975's Matty Healy is doing on tour. At a recent show in New Zealand, the front man addressed the controversial comments made about Ice Spice during a February appearance on The Adam Freidland Show podcast. After vaguely telling the audience that he felt "kind of a bit sorry" if he had "offended" them, he directly addressed the rapper. "Ice Spice, I'm sorry," Healy said. "It's not because I'm annoyed that me joking got misconstrued. It's because I don't want Ice Spice to think I'm a dick." He added that he doesn't want to be perceived as mean-hearted, and noted that while "we all get it wrong," he has to publicly apologize since he's a public figure. "I am genuinely sorry if I upset her, because I fucking love her," he concluded.
In the podcast episode, Healy revealed that he once slid into Ice Spice's DMs and didn't get a response. The "Princess Diana" rapper was introduced as an "attractive woman who released one song." Show co-hosts Adam Friedland and Nick Mullen then called her an "Inuit Spice girl" and a "chubby Chinese lady," going on to mock Chinese and Hawaiian accents based on their perception of her race. Healy reacted by laughing and saying, "Yeah, that's what Ice Spice is like." Ice Spice had previously described herself as a fan of alt music, specifically shouting out The 1975. We wonder if she'll view Healy's apology as genuine, or if she'll think that boy's a liar.