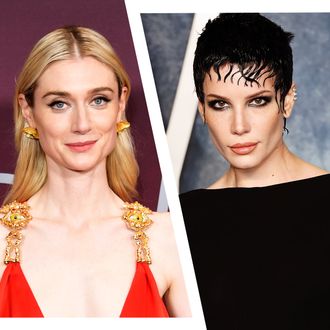 Scream royalty.
Photo-Illustration: Vulture. Photos: Getty Images
First Ti West's X got pearled, then tripled, and now it's … octagoned? The cast for A24's MaXXXine, the horror director's next in the trilogy already comprising X and its prequel Pearl, has a hit list full of stars. Joining Mia Goth is Kevin Bacon, The Crown's Elizabeth Debicki, Moses Sumney, Michelle Monaghan, Bobby Cannavale, Lily Collins, Halsey, and Giancarlo Esposito. The production is "coming soon," set to begin filming April 2023 in Los Angeles. Goth's recent feat Pearl was notably snubbed by the Oscars, prompting the actress to say "a change is necessary" when it comes to the Academy's views on the genre. With a cast rivaling Oppenheimer and Barbie, MaXXXine could kill the controversy.
So far, we know the film follows the aftermath of the massacre in X, and see Goth's only-surviving character, Maxine, still attempting to make it in Hollywood as an actress in the '80s. Per THR, MaXXXine will "deal with the dangerous world of underground filmmaking." Esposito reportedly plays an agent for adult-film and Z-list movie actors, with Debicki as a *gasp* female film director. Monaghan and Cannavale have been typecast as LAPD investigators, while Bacon is a presumably hard, grizzled private detective. Given the previous two films, there is one thing we can absolutely expect: more Mia Goth screams to go viral on TikTok.