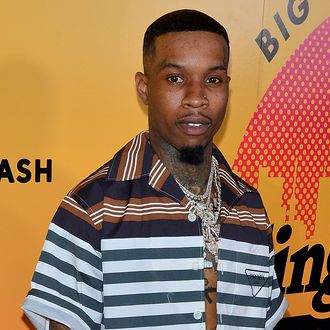 Photo: Jerod Harris/Getty Images for MCM
After being found guilty of the 2020 shooting of Megan Thee Stallion, Tory Lanez (born Daystar Peterson) has filed a motion for a new trial. In documents obtained by Rolling Stone, Lanez's lawyers argue that juror were "erroneously allowed" to view an Instagram comment made by Lanez's account claiming Megan Thee Stallion's former best friend Kelsey Harris was not the shooter. The Shade Room made a post which read "People saying Kelsey shot her," to which Lanez' account replied "That's not true." The defense's whole case hinged on asserting that Harris was the shooter.
However, on April 6, L.A. prosecutors opposed the motion filed by Lanez, calling the evidence against him "overwhelming," according to legal affairs reporter Meghann Cuniff. The 16-page opposition against Lanez's motion states that "the defendant's brief is replete with colorful rhetoric and conclusory statements, but it lacks substance. Despite being nearly 80 pages long, the defendant has failed to cite a single instance of error in the trial court." On Monday, April 10, Los Angeles County Superior Court Judge David J. Herriford is expected to consider the motion, and if it is rejected, Lanez's sentencing will remain scheduled for sometime in late April or early May.
The Instagram comment was allegedly admitted into evidence mid-trial, which did not give defense the time needed to determine who was posting as Lanez at the time. Lanez's filing includes a declaration from content creator Joshua Farias that he was the one using Lanez's IG account at the time and wrote the refutation of The Shade Room's post. "The court erred on numerous questions of law in allowing the People to introduce this post, depriving defendant of a fair trial," the motion reads. "The only acceptable remedy for this miscarriage of justice is a new trial."
This post has been updated throughout.