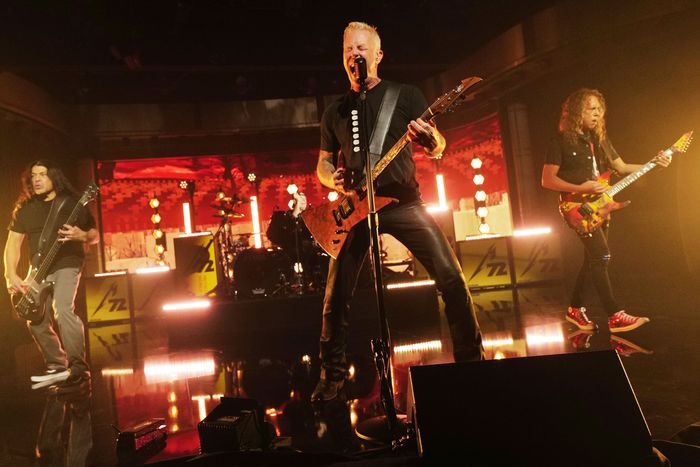 REPORT: Fuel, fire, desire return.
Photo: Randy Holmes/ABC via Getty Images
What do we want from Metallica? The question has plagued the California quartet for decades. Their '80s classics combined the reckless speed and impressive technicality of European acts like Saxon and Iron Maiden with a Reagan-era flair for the macabre. It was the perfect storm: Drummer Lars Ulrich, descended from Danish tennis pros, had the tenacity and the means to follow Motörhead on tour and study the deliciously distorted riffs and punk-rock tempos of the British New Wave; singer-guitarist James Hetfield grew up in a religious family in Southern California fixated on faith and fatalism. Together, they learned what made their predecessors and peers tick and systematically set about beating everyone at their own game, crafting faster, darker, and longer songs while rejecting the image-consciousness of the glam-metal acts dominating the charts at the time. But the tragic 1986 tour-bus crash that claimed the life of bassist Cliff Burton and the exacting bleakness of 1988's … And Justice for All, which introduced Jason Newsted as Burton's replacement, drove Metallica to abdicate the thrash-metal throne, a decision the band's most recent works, including this week's new 72 Seasons, have been loudly reconsidering.
You could argue that 1991's diamond-selling Black Album and everything since then are a reaction to the fierce love for Metallica's starting four (Kill 'Em All, Ride the Lightning, Master of Puppets, …And Justice). Asking Bob Rock, who mixed Bon Jovi's Slippery When Wet and New Jersey and produced Mötley Crüe's Dr. Feelgood, to assist was a major apostasy to devotees of "Disposable Heroes" and "Trapped Under Ice," the first of a decade's worth. After the band cut their hair in advance of the 1996 single "Until It Sleeps," Alice in Chains bassist Mike Inez showed up for his group's MTV Unplugged taping with "Friends don't let friends get friends haircuts…" written on his instrument. The late-'90s run of Load, its sister album Reload, covers compilation Garage Inc., and orchestral live album S&M were all attempts to loosen our idea of what Metallica could be while reinforcing where it came from. It was important for people to know there's as much Bob Seger as Glenn Danzig in Hetfield's vocal delivery and as much Phil Lynott as Tony Iommi in Kirk Hammett's leads. Coming down from thrash mountain to engage a new generation of hard-rock fans who were beginning to dabble in extreme metal enshrined the quartet as radio titans even if nothing hit quite as hard as the Black Album (barring Load's "Until It Sleeps," which charted higher than "The Unforgiven"). Metallica persevered as one of the country's biggest touring acts in the '90s; you either discovered them too late to pine for more "Fight Fire With Fire," were lured in by gateway singles like "Fuel" and "No Leaf Clover," or were a die-hard who went on food-and-drink runs during those songs. The group barreled through southern-rock dirges, alternative-radio staples, and power ballads, letting listeners fight among themselves. "You can only be what the public thinks you are for so long before it gets boring," Hammett told Rolling Stone in 1996.
The band would come to different conclusions in the pivotal aughts, when Newsted left the fold during a tiff with Hetfield that is luridly outlined in the documentary Metallica: Some Kind of Monster, a two-and-a-half-hour trip inside the dicey months when recording sessions and interpersonal relations broke down on the road to 2003's St. Anger. This album was reviled by many for the insistent ringing of the snare Ulrich borrowed from Rock, who stood in on bass, but was appreciated by the patient for cuts like "Frantic" and "Some Kind of Monster," which delivered the hard, harsh noise the Loads lacked. Divisions within the band were further complicated by a fight between Ulrich and Napster over mp3 file sharing, which awkwardly pitted the drummer against his own fans. With Robert Trujillo from Suicidal Tendencies joining as bassist in the mid-aughts and premiering on 2008's Death Magnetic, Metallica re-embraced the speed and elaborate song structures of Justice but also the muddiness of … And Justice for All's mix, with its faded bass and imposing wall of treble. Death's veil of crackling distortion set another hurdle for traditionalists, though the next record, 2016's Hardwired … to Self-Destruct, rewarded the contingent with Metallica's tightest batch of songs in 25 years.
72 Seasons, the band's 11th album, shares Hardwired's comfort in the vastness of the back catalogue. It isn't running hastily toward or away from some earlier milestone. It's just hosting a conversation about the illusion of memory and the influence the past (and our perception of it) exerts on the present. It slips easily between the fleet, muscular, punk-inspired jams the band learned as friends and admirers of Lemmy Kilmister; the lumbering timing, suspenseful start-stop dynamics, and punishing riff architecture of "Enter Sandman" and "Sad But True"; and the bluesy swagger of the late-'90s Metallica records that let their expansive musical roots show. Decades ago, each of these twists was a sea change, a new approach intended to free the band from the tyranny of repeating itself. "We deal with extremes because we don't want to get stuck on a narrow track," Ulrich told Rolling Stone in 1989, documenting his growing distaste for the quest to play the fastest.
In the stretch between "You Must Burn!," "Lux Æterna," and "Crown of Barbed Wire," 72 Seasons struts through heavy metal, thrash, and tuneful hard rock, finding joy in versatility rather than in the shock of rapid, totalizing change. Metallica is playing to its wide-ranging strengths while avoiding most of the pitfalls it hit when it strained to stay not just aware of but at the forefront of the evolving taste of mainstream rock fans. The long songs don't drag because the melodies and interplay are arresting: You want to luxuriate in the "You Must Burn!" groove for seven minutes; you wish "Too Far Gone?" gave more time to the dueling twin-guitar leads that jump out in its back half. When the 11-minute closer, "Inamorata," gives Hammett and Hetfield over a minute to trade snaking, harmonized leads, it feels not labored but majestic.
The sense of closure in "Inamorata" is as attributable to the lyrics' considerations as to the music's ability to close the spaces between styles that once felt far-flung for this band. 72 Seasons catches Hetfield pondering a tight spot between all the unplanned isolation of the pandemic and the forced reflection of visits to rehab facilities in 2019 and 2022. The singer originally wanted to call the album Lux Æterna to foreground the themes of light and renewal the new songs touch on. "Inamorata" finds the lyricist behind "Creeping Death" and "Fade to Black" admitting he gets the same catharsis from writing and playing the songs as we do from listening to them, understanding that his darkness made him famous but doesn't have to define him.
The name 72 Seasons references the first 18 years of life, a rough patch for the singer, who was abandoned by his father at 13 and lost his mother to cancer at 16, after which he came to despise the family's Christian Scientist faith and its discouragement of medical care and traditional funerals. Lingering resentment inspired captivating music but also self-destructive behavior. In songs like "Too Far Gone?," this album asks whether we are inhibited by our greatest pains and worst habits or what we accomplish in spite of them: "Am I too far gone to save? / Help me make it through the day." The final chorus flips the question into a declaration of perseverance, a trick the album pulls a lot. "Screaming Suicide" counters the desolation of "Fade to Black," rebuffing dark ideations with "Now you've faced your biggest fear." "Shadows Follow" pivots from dreading night terrors, in the spirit of "Enter Sandman," to facing personal demons to sap their power: "Now I know / If I run / Still my shadows follow." (This isn't new territory for the band. "Nothing Else Matters" and "Hero of the Day" voice the same ragged tenacity. We're just getting the uplifting messages without their being drowned in embellishments that noisily signify a vulnerable moment. 72 Seasons uses harsh sounds to express tender feelings.)
The brighter resolutions don't guarantee a sunnier listen. 72 Seasons says there's a great deal to live for but also a lot to be afraid of now — ourselves, one another, the future. The cover design articulates something the album expresses in the balance of songs about boyhood in the shadow of anxiety, loss, and addiction with images of ideological and political warfare. The light within us is stronger than the bravado we find at the bottoms of beer cans; it's harder than a bat, sharper than a knife, tougher than metal. Seasons impresses by finding ways to make this message sound dangerous. "Lux Æterna" depicts radiant inner satisfaction as an electrifying force, a change of pace for a band whose most memorable song about lightning straps you into the hot seat mid-execution. The iron resolve at the end of "Too Far Gone?" comes after "Crown of Barbed Wire," "Chasing Light," and "If Darkness Had a Son," through which there's no relief from the temptations plaguing the protagonist. Defanging your demons is daunting yet doable, but so is handing them the keys to your life and the instruments of your downfall. 72 Seasons addresses the question of whether our past dictates our future by releasing itself from habits and animosities, then works out that all we've ever wanted from Metallica are big, bludgeoning riffs and piercing honesty and blasts us in the face with both.