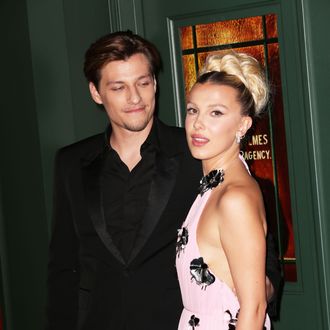 Congrats!
Photo: Richie Buxo/Shutterstock
In a move that may bring us closer to the reunification of Britain and America than we can yet know, young British icon Millie Bobby Brown appears to be engaged to Jake Bongiovi, the son of New Jersey royalty Jon Bon Jovi, approximately one and a half years since their Insta-based dating confirmation (no word on when the dating actually started). The speculation comes following dual Instagram posts from the couple on April 11, with Bongiovi's captioned, "forever," with a white heart. The Stranger Things star's was even more explicit, prominently showcasing what sure looks like an engagement ring and captioned, "I've loved you three summers now, honey, I want 'em all," with another white heart. For the non-Swiftie population, that caption is from Taylor Swift's wedding ballad "Lover" — though now is maybe not the best time to invoke Swift if you're claiming your relationship will last forever.
If you're like, "Wait, isn't Millie Bobby Brown super-young?" rest assured, time is not playing tricks on you. The fiancées still have quite the youthful glow; Brown is 19 and Bongiovi 20. Millie Bobby Brown has cosplayed as middle-age Gloria Steinem before and has been a working actress since age 9, so precociousness is well within her wheelhouse. Vulture has reached out to Brown for comment. So now, we're left with just one question: Will her best friend Noah Schnapp's ghost kitchen TenderFix be catering the wedding?