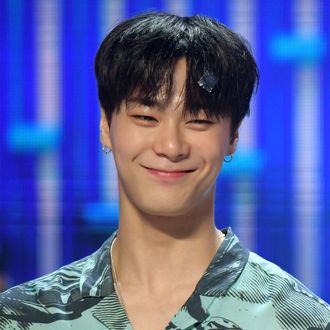 Moonbin.
Photo: The Chosunilbo JNS/ImaZins via Getty Images
Moonbin, a member of the K-pop group Astro, died on April 19 at his home in Seoul. He was 25. "Astro member Moonbin suddenly left us and became a star in the sky," the group's label, Fantagio, wrote in a statement posted on social media to confirm the news, according to translations. "We sincerely ask you to refrain from speculative and malicious reports so that the bereaved families, who are deeply saddened by the sudden news, can commemorate the deceased." His family plans to hold the funeral privately with colleagues and friends in attendance, according to the statement. Moonbin's manager found him dead around 8 p.m. Wednesday at his apartment in the exclusive neighborhood of Gangnam, per the Korean news agency Yonhap. It appeared that the K-pop star died by suicide, according to local police. Just before the news circulated, his events agency announced that his upcoming tour with bandmate Sanha in Jakarta would be canceled due to "unforeseen circumstances beyond our control."
Born Moon Bin on January 26, 1998, in Ch'ongju, South Korea, he debuted as a child model and actor in 2004, starring in the music video for TVXQ's "Balloons." He went on to have a small role in the hit K-drama Boys Over Flowers as the younger version of one of the lead characters. Moonbin rose to fame when Fantagio selected him as center, main dancer, and lead vocalist of Astro after he completed a trainee period that began when he was in the fifth grade. The band debuted in 2016 with their EP Spring Up and were named one of Billboard's top ten new K-pop groups of the year. As a six-piece, Astro released three albums, including their latest, Drive to the Starry Road, before bandmate Rocky left the group last month, making it a quintet. As a subunit of Astro, Moonbin and Sanha dropped their third EP, Incense, in January. Moonbin's younger sister, Moon Sua, is a member of the girl group Billlie.
If you or anyone you know are in crisis, call the National Suicide Prevention Lifeline at 800-273-8255.