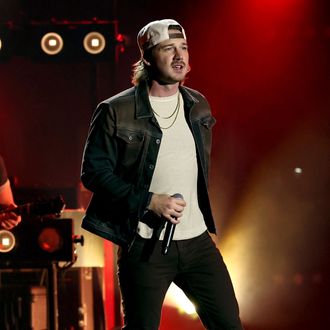 This guy.
Photo: Terry Wyatt/WireImage
Update, April 25: Morgan Wallen's litigious fans have decided to settle it on the streets. Brandi Burcham's class-action lawsuit against the country singer for canceling his concert just before going onstage was voluntarily dismissed on April 25, according to documents obtained by Vulture. Although mandatory court is the celebrity hot spot, Wallen gets to cancel those appearances too.
Original story follows.
Morgan Wallen has squandered so many chances at being a functional public figure at this point, sane minds wonder if it's all a piece of extended performance art … until you actually listen to his music (on his new album, he rhymes "find a bunch of logs" with "catch a bunch of hogs"). There just may not be that much going on under his mullet. On Sunday, April 23, the country singer canceled a show in Oxford, Mississippi, minutes before he was supposed to go onstage. After the opening acts for his One Night at a Time World Tour stop had already performed, a message flashed onscreen to the audience of 60,000 people at the Ole Miss football stadium, saying:
Ladies & Gentlemen, unfortunately Morgan has lost his voice and is unable to perform tonight - therefore tonight's show has been cancelled. Please make your way safely to the stadium exits. Refunds for tonights [sic] event will be available at point of purchase.
Fans were rightfully pissed, and posted TikToks from inside the stadium crying and giving his Jumbotron Notes app apology the finger. The next day, one wronged fan took it a step further and filed a class-action lawsuit against him on behalf of herself and other concertgoers. According to "Page Six," Brandi Burcham's suit for breach of contract and negligence claims that her refund has yet to arrive, as was promised at the concert. Furthermore, she argues that fans should be compensated for additional costs like transportation and merch sales.
Wallen has been put on vocal rest and has since postponed three upcoming shows in Michigan, Illinois, and Nebraska. But some fans are convinced that "vocal rest" is a cover-up and that the real reason Wallen bailed minutes before the show was because he was allegedly too inebriated to get onstage. They're basing these claims on a video of a security guard saying he was "too drunk," "couldn't walk," and "an ambulance took him off." The video has yet to be verified, and Wallen has insisted in Instagram Stories that he is "on doctor-ordered vocal rest" for the rest of the week and feels "horrible about this news."