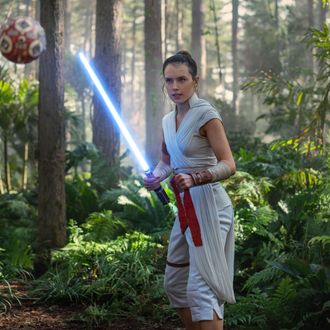 Photo: J Wilson/Lucasfilm/Disney/Kobal/Shutterstock
In the immortal words of Lucille Bluth, "Here's some money. Go see a Star War." That command has never been easier to follow than it is right now. The Star Wars Celebration Convention currently underway in London is pumping out announcements at a borderline-alarming rate — by the time you finish reading this, there will be six more Glup Shittos, each with their own spinoff series. We finally have a release month for Ahsoka (August), starring Rosario Dawson, along with a teaser trailer. Plus Return of the Jedi will be returning to theaters starting April 28 to celebrate the film's 40th anniversary. But then there are the updates we had to hunt down: trailers that aren't yet available online, returning stars and directors being teased but not confirmed. Here's everything we know so far about all the incoming projects from that galaxy far, far away.
Daisy Ridley is our prodigal daughter.
Rey has returned! Ridley is no stranger to Star Wars, and this news marks her return to the series — and she's making her comeback in record time. Following her appearance in 2019's Star Wars: Episode IX — The Rise of Skywalker, Ridley will be directed by Sharmeen Obaid-Chinoy in a movie that Lucasfilm president Kathleen Kennedy described as "the story of the rebuilding of the new Jedi Order and the powers that rise to tear it down," according to IGN. Rey will be the "powerful Jedi master" rebuilding the New Order. Let's hope Poe can hop on a FaceTime and send over some advice.
The Jedi will come out in droves.
IRL fans also got a first look at the upcoming film The Acolyte, but sadly, the clip hasn't yet been made public. What we do have, though, are some descriptions of the film from the panel. Directed by Leslye Headland (Russian Doll), the movie is a pre-prequel set 100 years before the Anakin origin series. That means it's in the era of the High Republic when the Jedi were out in droves. Headland called the film "Frozen meets Kill Bill" in pitch meetings, according to Variety. The cast includes a bunch of big names new to the Star Wars universe, like Amandla Stenberg (Bodies Bodies Bodies), Lee Jung-jae (Squid Game), Jodie Turner-Smith (Queen & Slim), and Manny Jacinto (The Good Place).
Andor season two is coming, and we know where it's headed.
Andor season one was a big hit here at Vulture, so the news that Andor season two is coming round the mountain has been hotly anticipated. Tony Gilroy, the show's creator, expects the second season to be ready in August 2024, which isn't exactly soon, but it's within our sights. "If you know your ending, it really helps," Gilroy said about the Rogue One prequel, according to Variety. "We know exactly where we're going. You know what you have to deliver emotionally and what the story has to do. It's a decision born of survival, but it's good for us creatively." Apparently, season two will take place over four years, with four three-episode-long "pods" telling a story from each year. But if you can't wait to find out the fate of Cassian Andor (Diego Luna), you could always just watch Rogue One again.
James Mangold and Dave Filoni are in the directors' chairs.
We've got two other new Star Wars projects lined up, set in vastly different time periods. Mangold (Logan) is directing one that he described as a "biblical epic" set 25,000 years before any other Star Wars content thus far, according to The Hollywood Reporter. He said his project will take on questions such as "Where did the Force come from, when did we discover it, when did we learn how to use it?"
Back in the present (which, if you'll remember, is still "a long long time ago"), Filoni, president of Lucasfilm Animation, will take on a live-action project. The goal of that film will be to wrap up the stories of The Mandalorian, The Book of Boba Fett, and Ahsoka. Big job, Filoni!
Rian Johnson and Taika Waititi are taking their time writing
Kennedy gave an update to Variety on the unnamed Star Wars films from The Last Jedi writer/director Rian Johnson and Mandalorian director Taika Waititi. Johnson has been busy working on the next case for Benoit Blanc so it might be some time before we see another Johnson Star Wars movie. As for Waititi, he's still writing his script (hans) solo, says Kennedy. "He doesn't really want to bring others into that process and I don't blame him. He has a very, very unique voice. So we want to protect that and that's what he's doing. But we're going to make that one day."
Tales of the Jedi is getting some more tales
Dave Filoni is giving us more reasons to celebrate. The popular animated Star Wars series Tales of the Jedi is coming back for season two but don't get your hopes up for details. "Tales of the Jedi was so fun the first time," said Filoni. "I did some more." Yep… That's all he said on the new season coming soon to Disney+.
We had a vision of new Visions
If you could gaze into the future … you may get a vision of nine new shorts set in the Star Wars universe. Star Wars: Visions first premiered in September 2021, and now it's coming back for more. Featuring shorts from nine animation studios across the globe in their in-house styles, the second season of Visions is premiering on Disney+ on May 4 — as in May the Fourth Be With You Day. (And also with you.)