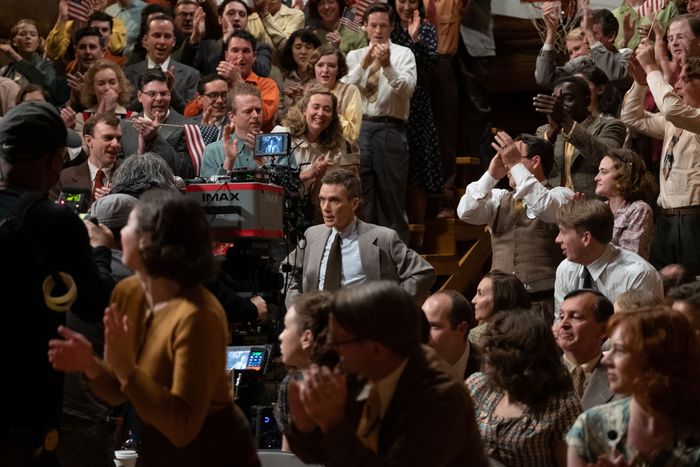 Photo: Melinda Sue Gordon/Universal Pictures
In terms of artistic ambitions and sneak-preview presentations, the two films could hardly be more different. One, a prestige drama largely plotted around men in rooms talking, was quietly introduced by moviedom's preeminent auteur, Christopher Nolan. He arrived before a 4,000-strong crowd at CinemaCon in a suit jacket, vest, and tie to make an almost lawyerly argument for the pervasive societal import of his movie Oppenheimer's titular subject matter: the father of the atomic bomb, J. Robert Oppenheimer.
The other was dragged kicking and screaming into public consciousness by a team of back-flipping stunt performers — some ninja battling with shurikens, one riding a motorcycle back and forth across the CinemaCon stage dragging some poor guy behind it, two falling from great heights onto giant foam mattresses (when director David Leitch pressed down a fire-engine red TNT detonator), and yet another doing spinouts in a mini–hot rod, all in the service of introducing The Fall Guy: a Ryan Gosling–starring stuntman thriller due out in March of next year.
Introduced by studio chairperson Donna Langley, Oppenheimer opened Universal Pictures' slate presentation Wednesday evening and The Fall Guy brought the house down nearly three hours later, arguably the two buzziest titles bookending what many attendees considered the convention's most entertaining — if not outright fun — panel so far. In between those films, Jason Blum and director David Gordon Green were on hand to drum up interest in Green's Blumhouse Exorcist reboot, The Exorcist: Believer. Will Ferrell showed up cradling an adorable dog to stump for his raunch-animal-comedy Strays. Jack Black sang a rousing rendition of Led Zeppelin's "The Immigrant Song" as prelude to a dramatic reenactment of what viewers can expect from Kung Fu Panda 4 (in the absence of actual footage). And Vin Diesel, attired in a white leather jacket with a prominent black X on the back, went off teleprompter to wax messianic about how the Fast & Furious franchise basically owed its long-running popularity to the theater owners in attendance (the lumbering action star also explained its tenth installment, Fast X, will be divided into two parts, the second arriving in 2025).
But none of those projects left quite the impression, for starkly divergent reasons, that Fall Guy and Oppenheimer did.
Owing primarily to the project's most basic specs, which have been widely known for quite some time, CinemaCon attendees already knew Oppenheimer would be serious as a heart attack. Adapted from Kai Bird and Martin J. Sherwin's 2005 book American Prometheus, the biopic stars Nolan regular Cillian Murphy as the theoretical physicist who headed up the Manhattan Project, a World War II–era covert undertaking that developed the first atomic bomb. But for the British filmmaker behind such blockbusters as Inception and the Dark Knight trilogy, the scientist's story serves as more than just a portal into history. "I know of no more dramatic tale with higher stakes and twists and turns and ethical dilemmas," Nolan said. "Like it or not, J. Robert Oppenheimer was the most important person who ever lived. He made the world that we live in."
"These were the finest minds realizing that when they came to test the first device, there was the possibility they couldn't rule out that they'll set fire to the atmosphere and set fire to the entire world," he continued. "And they go ahead and push the button anyway. I wanted to take the audience there."
The CinemaCon footage Nolan unveiled begins in black and white on a note of alarm. Robert Downey Jr. as the Atomic Energy Commission's Lewis Strauss informs Oppenheimer, among a group of grim-faced men seated around a table, that the Soviet Union recently detonated their own nuclear device — and there are suspicions that an American spy may be handing them secrets. "The Russians have a bomb," Downey says. "We're supposed to be years ahead of them. What were you guys doing in Los Alamos?"
From there the action flashes back in fits and spurts to secretive negotiations leading to the establishment of the Manhattan Project on a dusty plain "in the middle of nowhere" with a mustachioed Matt Damon turning up as General Leslie Groves, the army engineer who oversaw the bomb's construction. "Are we saying there's a chance that when we push that button, we destroy the world?" his character asks.
"The chances are near zero," Oppenheimer replies.
"Near zero? Zero would be nice."
At the other end of the cultural continuum, Leitch, the acclaimed action choreographer turned director behind such titles as Bullet Train, Deadpool 2 and Fast & Furious Presents: Hobbs & Shaw, explained what led him to adapt The Fall Guy, a schlocky yet beloved '80s TV series starring Lee Majors as a stuntman who moonlights as a bounty hunter. "I was excited to make a movie that portrayed the life of stunt people," Leitch said. "I was a former stunt performer so this was something very, very dear to me."
In the film, Ryan Gosling portrays Colt Seavers, a brilliant stunt performer who has fallen on hard times after an on-set injury. With blond dirtbag locks and a wardrobe of cutoff T-shirts, he makes a living as a valet parker until a Hollywood contact (Hannah Waddington) pulls him back into the crash-and-burn business with an offer he can't refuse.
"It was a huge honor to step into the footsteps of Lee Majors," Gosling said from the CinemaCon stage before explaining his character's dilemma: "He's broken his back, left the job. His girlfriend left him. He gets called back to work on a movie that his girlfriend is directing — played by the one and only Emily Blunt!"
"It's such a shock anyone would break up with … you!" Blunt joked.
Preview footage revealed Gosling's character at work on a "space opera" in a variety of outré getups: as a soldier in a military outfit reminiscent of Willem Dafoe's in Platoon, a Wolverine-esque leather jumpsuit, a tennis-ball-yellow blazer and T-shirt combo. There are car wrecks and horse falls — all shot practically, according to Leitch. A filmmaker character played by Winston Duke proclaims Colt "the best stuntman I have ever worked with in my entire career!" And in one set piece played for laughs, Blunt's character directs Gosling's to be set ablaze and wander across a set over and over, repeatedly burned to a crisp in implicit retribution for "ghosting" her.
The movie's central crisis comes courtesy of the film within a film's fictional star, Ryder (Aaron Taylor-Johnson), who goes missing, requiring Colt to reluctantly turn bounty hunter. "If the studios find out he's missing, this first movie of Jody's will be her last," the stuntman is informed. "You find Ryder, you save Jody's film. You get the love of your life back."