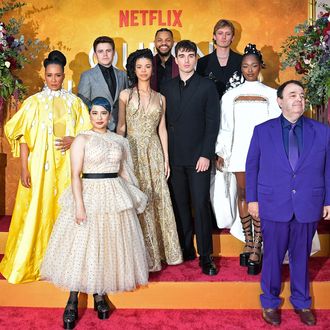 The royal court.
Photo: Charley Gallay/Getty Images for Netflix
With all the talk of who will be performing at King Charles's coronation on the same weekend that Bridgerton spinoff Queen Charlotte premieres on Netflix, members of the royal cast of the show have musical performances on the mind. While Peyvand Sadeghian (who plays Coral) had a "careful" approach in picking Bon Jovi (maybe Millie Bobby Brown could join in with an "Imagine" cover), Freddie Dennis (who plays King George's devoted butler, Reynolds) chose a lesser known artist who deserves more recognition — kind of like the Reynolds treatment this season. "It doesn't matter what it's for. C Duncan is the best musician in the world, and no one really seems to have heard of him," said Dennis.
"One of my favorite songs in the world is by Paolo Nutini," Sam Clement (who plays young Brimsley) declared. "I would love to see him at a coronation — my coronation, whoever's a coronation. If I'm there, he needs to be there." Clement's present-day counterpart, Hugh Sachs, opted for a British legend: "It would have to be Elton John. He's universally loved." As for young Lady Danbury's Arsema Thomas? She hoping for some sort of reunion — either with life on earth or a supergroup. "If Prince could rise from the dead, that would be sick," she said as her eyes widened with excitement. "Or the Fugees!" While it's impossible to bring back Prince without an Ouija board, maybe his estate will lend a song or two for an orchestral version? Imagine "Kiss" played by a string ensemble.