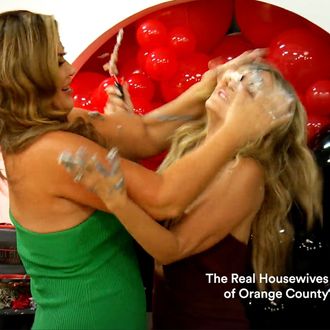 I wouldn't say Real Housewives trailers are formulaic, but they are very familiar. They usually drop at the same time of day, depending on the city, and follow a clean format: The ladies are all having a blast together before it shifts halfway and ends with them all screaming as though someone just got fake tanner all over the white sofa. But the trailer for The Real Housewives of Orange County's latest season (at 17, she's old enough to be applying to UCSB right now) is a little different.
It starts like a 1950s video about the life of a housewife, with black-and-white footage saying what a traditional housewife with a small H's job is — cooking, taking care of the kids, being nice to her husband — and how the Real Housewives with a capital R and H are horrible at all of those things. It's cute, it's funny, it's unexpected. Is this why the trailer took so long to arrive by fans' standards? Because they were trying something new?
Cue the girls having fun, starting with Gina Kirschenheiter, Emily Simpson, and returning champion Tamra Barney Judge on a Slip 'N Slide in someone's backyard. Tamra isn't the only one back for a victory lap after a successful turn on Ultimate Girls Trip 2. Former RHOBH cotton-candy aficionado and meme favorite Taylor Armstrong pops up as a friend, making her the first woman ever to jump cities. In the final seconds of the trailer, with a jump scare that would make even M3GAN jealous, the screaming rictus of Victoria Denise Gunvalson Jr. makes a momentary return — but it's unclear whether her appearance is a promise or a threat.
There's another new girl, too, Jennifer Pedranti, whom Tamra knows from CUT Fitness (RIP) and who is possibly having an affair (with another CUT Fitness member, according to Bravo's press release) that is the talk of the town. It's funny that she's Tamra's friend since we see Ms. Judge throw a napkin in her face.
Oddly, we don't see much from Shannon Storms Beador other than her screaming about her relationship and storming away from the camera for the 476 billionth time. We know her boyfriend John Janssen dumped her right after filming wrapped, so it would make sense if the dissolution of her relationship were a major story this season.
Even with all the footage of the laughs and fights, we still don't get a hint of what this season will be about. There's little context provided around Shannon and her man, and there's ultimately no tension between Tamra and Heather Dubrow, who have apparently been feuding since filming wrapped. The trailer is all yelling, no context, but at least we get a guest appearance by Mark Cuban and not one but two poop jokes. Yeah, these women are awful housewives, which is what makes them so damn good at being Housewives.