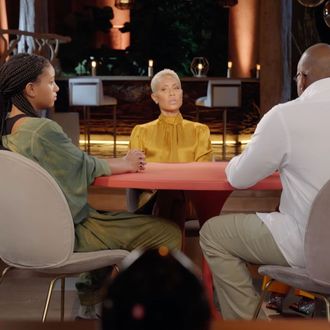 Meta, we'll see you at the Red Table.
Photo: Facebook Watch
Celebrities can take their mess to the Red Table no more. Red Table Talk, the Jada Pinkett-Smith–hosted talk show, will end its five-year run on Facebook Watch, according to a Variety report. Facebook Watch is pulling the plug on all original programming, and one of its most recognizable offerings is going down with the ship. The series, co-hosted by Pinkett-Smith's daughter, Willow Smith, and mother, Adrienne Banfield, often gave a safe space for notable figures to delve into their issues and heal — including Will Smith and Pinkett-Smith's post-entanglement revelations (see: meme of Smith crying during the discussion of their marital problems) and Smith's feelings post-Slap. Red Table Talk was one of the last Facebook Watch shows standing after it said good-bye to scripted series in 2020 to focus on reality shows like The Real World and Tom Brady's Tom vs. Time. Pinkett-Smith's production company, Westbrook Studios, is reportedly looking for a new home — could our Lord and savior Tubi rescue yet another show from sure death? It wouldn't be the first time.