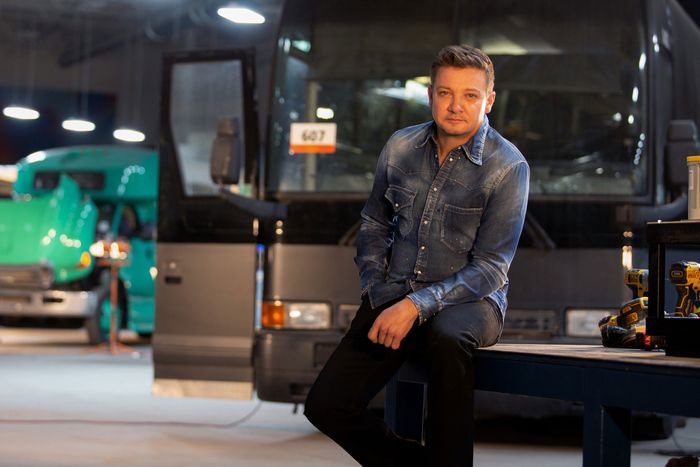 Photo: Nina Riggio/Disney
What's the best way to recover from a traumatic accident that has left you with more than 35 broken bones? Good ol' fashioned rest? Absolutely not, if you're Jeremy Renner. On April 11, the actor and host of Rennervations hosted the premiere of Disney+ series just 14 weeks after his near-death experience.
At the Westwood Regency Village Theatre in Los Angeles, those closest to the show came to support their boss and/or friend, including the team behind Base Chicago, an athletic and academic organization that received a mobile recording studio in the first episode. At the after-party for the series, Base executive director Eric Davis told Vulture that, despite the organization receiving the truck almost one year ago, the only time Renner wasn't in contact with the team was during his accident. "He texted us, 'Isn't it report-card time?' It's like, Really? Don't you have anything else to do?" teased Davis.
Before the night's festivities got started, Renner walked the red carpet with a cane for photos, then transitioned to moving around on a mobility scooter for the rest of the evening. In response to the many questions throughout the evening about his recovery, Renner turned the conversation back to the show and the people behind it. "A lot of people, many of them here, were part of saving my life and keeping me alive," Renner said during the post-screening Q&A with Jimmy Kimmel. "A big part of my recovery was this show. It set a big milestone for me to get better to make sure that all our hard work was not for naught."
Most of the crew had seen Renner virtually post-accident, but for many — including fabricators Rob "Bender" Park and Roxy Molohon — it was still an emotional reunion. "It choked me up that he was here in person," said Park. "After the accident, I didn't know if he'd be making it here," Molohon said. "To know that the show has actually helped motivate his recovery, that's really touching."
While the rest of the evening was dedicated to celebrating the series as a whole, everyone there knew it would not be possible without Renner — including the live band, which dedicated seemingly every classic rock and pop cover to him.