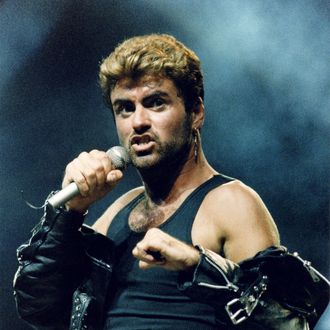 Photo: Pete Still/Redferns
Faith, still needed for a little bit longer. Better yet, conjure up a sax riff for good luck. George Michael has won the Rock & Roll Hall of Fame's annual fan vote by a substantial margin, amassing more than a million votes before the April 28 deadline. Despite the dominant fan showing, Michael's win doesn't mean he's guaranteed to be inducted with the 2023 class, although, historically, it's a very good omen. Let us explain. The fan vote has the same cachet as one ballot from a member of the voting body, which requires five acts to be selected per ballot. In addition to Michael, the second-through-fifth place finishers get to be included on the fan vote ballot: This year they are, respectively, Cyndi Lauper, Warren Zevon, Iron Maiden, and Soundgarden. We know it seems strange, but by that logic, Michael's win is more of a symbolic one, as his first-place finish is weighted as evenly as Soundgarden's fifth.
Ever since the fan vote was established in 2013, each year, except one, has resulted in the winner enjoying a subsequent induction. (The lone anomaly was in 2020, when Dave Matthews Band crashed.) Previous winners include the likes of Rush, Tina Turner, and Bon Jovi, proving there's no formula for a specific subgenre or era. And if we want to speculate even further, only one of our two anonymous voters said they would be voting for Michael this year. We'll know for sure next week, when the Rock Hall reveals its 2023 class.