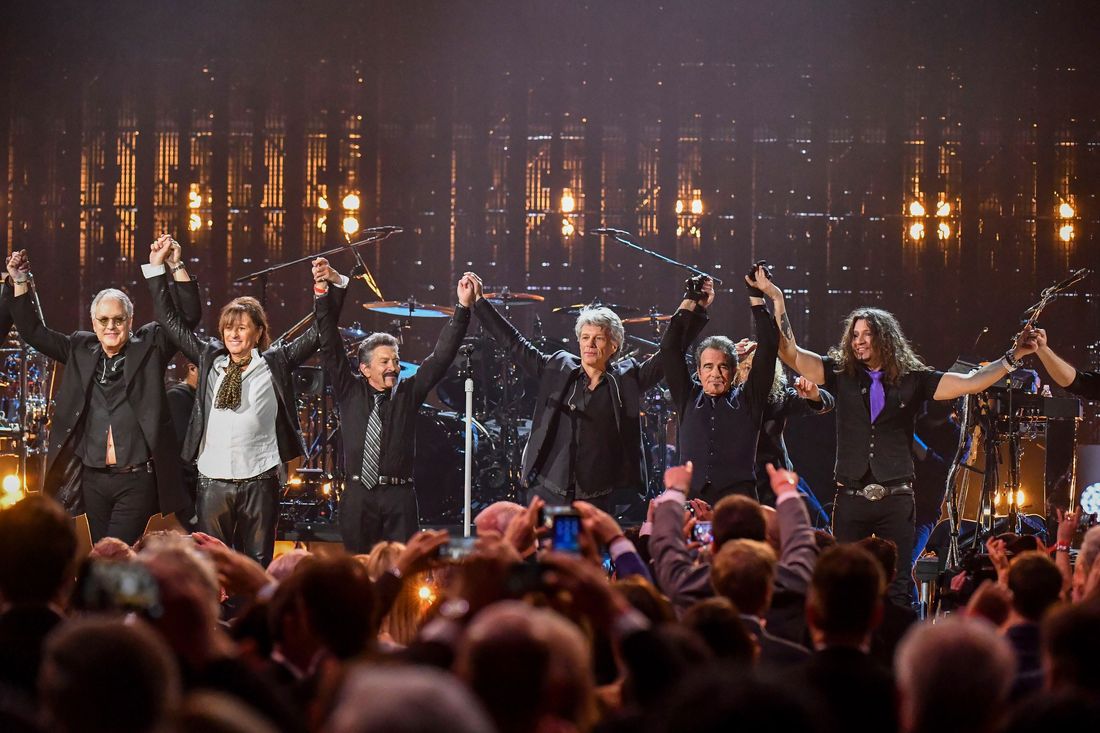 "Over its four-decade history, the Rock Hall had inducted fewer than 100 women versus nearly 1,000 men." (Of those men: Bon Jovi, seen here in 2018.)
Photo: Jeff Kravitz/FilmMagic
In 2018, I received an email with the subject line "Rock and Roll Hall of Fame Induction Class." The message inside read, "We are looking for people that have a wide range of musical influences, expertise [their emphasis] and taste and hope that you will consider being a part of this ongoing committee." It said I had been recommended by my peers. To accept the invitation, I was asked only to provide a snail-mail address.
I wasn't sure it was real. The message had multiple fonts and some grammatical errors, and was sent by someone with no title in their signature line from a curious rockhallfoundation.com address that had no corresponding website. Who was this person? Was I being scammed? When Google didn't provide answers, I went to the Rock Hall's official site and found contact information for its communications director. A day later, they confirmed the invitation was genuine.
I still had reservations. The Hall had long been under fire for its opaque selection and voting processes. Some said it snubbed candidates who didn't fit its narrow — and seemingly arbitrary — definition of rock, which were all too often women and people of color. I also heard the leadership was a deeply entrenched old boys' network. Why were they reaching out to me?
As a freelance reporter, my stories often appeared on NPR and focused on underrepresented artists and industry changemakers working behind the scenes to promote equity. Perhaps the Rock Hall was finally listening? If I did have access to the inner sanctum, maybe I could have a voice at the table to help bring about some necessary changes. At the very minimum, I would have a vote. But that's only part of the reason I said yes. The other was that it felt like I'd been tapped to join a secret society. I was flattered.
Five years have passed since then, and, despite my hopes and intentions, I've come to see my time there for what it was: tokenism. That's why I'm forfeiting my membership and resigning as a Rock Hall voter.
There were red flags from the beginning. A week after I received the invitation, a glossy red-and-white ballot booklet arrived in the mail. There was no welcome letter and no guidance on how to vote, like whether to weigh factors such as artistry, influence, and record sales. In fact, there were no instructions other than to choose a maximum of five nominees from a preselected group of fifteen. Each artist had its own page with a black and white photo, a short bio with no author, and a selected discography with their biggest hits. On the final page was a tear-off sheet with names and boxes to check off, and space for my email address, phone number, and signature. That meant, while the ballot entries were chosen and written anonymously, my votes would not be. As a woman I felt I'd be scrutinized. "Women in rock," as we are consistently reduced to, often are, especially when newly elected to a supposedly hallowed, and historically male-dominated, institution.
I carefully scanned the ballot: Should I choose the Cure or the Zombies? Kraftwerk or John Prine? Def Leppard or Janet Jackson? Although the task of voting felt daunting, I was no doe in the headlights. I had been hooked on rock since I was six, after seeing Leather Tuscadero (played by the real-life Suzi Quatro) on Happy Days. By sixteen, I had become a walking encyclopedia of rock knowledge. Yet the ballot appeared to be a competency test full of potential trick questions. I decided to throw my weight behind the artists I deemed most worthy of honor, representing different styles and eras of rock. I chose MC5, Stevie Nicks, Radiohead, Rufus & Chaka Khan, and Todd Rundgren, ripped off the tear sheet and mailed it back to the Foundation's office.
I never heard back. I only found out that two of my picks, Stevie Nicks and Radiohead, were among the winners when they were announced in the press months later. I was especially happy to see Nicks make it in, but why did it take so long? And why was she the only woman to be inducted twice when nearly two dozen men had already had that honor? (Nicks was inducted the first time, in 1998, as a member of Fleetwood Mac.) I never knew who to direct these questions to. I didn't even get an invite to the ceremony.  As a new member, it felt strange being so untethered from the actual institution. Was this what it meant to be a Rock Hall voter?
I wouldn't hear from the Hall again until I got an email asking me to reconfirm my address for the 2020 ballot. That year's slate had more female nominees and nominees of color, including Whitney Houston, Pat Benatar, and the Notorious B.I.G. Then in 2021 eleven of sixteen nominees on the ballot included women or people of color, including Kate Bush and Mary J. Blige. It felt like progress in one sense, but it was disappointing to find that generations of rock's female innovators and innovators of color were being passed over in favor of hitmakers drawn from other corners of the music world. Where was Link Wray? Love? Labelle? Living Colour? Where were the Slits, the Runaways, and most of the Lilith Fair main stagers?
I'm not saying the Rock Hall should cling to any presubscribed notions to what is or isn't rock and roll. The field has always incorporated elements of other genres, and spawned many of its own subgenres. But I felt uneasy looking at the ballot each year, the way the genre's definition seemed to be applied differently in the bios depending on who was doing the rocking. Implicitly, the "real" rockers were still white guys with "real" rock instruments. Everyone else rocked in a figurative sense. Somehow voters were supposed to make value judgments about these nominees without debate or communication of any kind, and without mechanisms for feedback to improve the nominee selection or voting processes. At the same time, the Hall was ramping up its virtue signaling by participating in actions such as Black Out Tuesday, putting out press releases touting its commitment to diversity, and posting a DEI statement on its website.
In 2022, I had so many issues with the framing of nominees that I didn't even bother turning in a ballot. Lionel Richie's entry claimed that U.S troops in Iraq used "All Night Long" as "their unofficial anthem — the song's jubilance bringing levity in the face of hardships." That's a horrific image on its own, and, when I looked into it, also a complete misrepresentation. The song was played in 2011 during nighttime transport flights as part of Operation New Dawn, which marked the drawdown of troops, not the escalation of combat. Eminem received praise for exposing society's darkest corners, and holding up a mirror to "anxieties about homosexuality" with his Ken Kaniff skits. But the entry failed to mention that Eminem has often been called out for homophobic slurs in his music, and has falsely equated homosexuality with pedophilia and predation.
Of course I wanted to put in a vote for Dolly Parton that year  — who doesn't love Dolly? But her entry irked me too, lauding "the paragon of female empowerment" for her "unapologetic femininity" which "belied her shrewd business acumen." The sexist description wasn't her fault, of course, and I might have been able to get past it until Parton herself declined the nomination because she said didn't consider herself a rock artist. I had to agree with that self-assessment, even when Parton did an about face, explaining that she didn't want to disappoint the fans who voted for her. (Fans are eligible to cast votes online, though it's not clear how they're tallied.) Ultimately, Parton, Richie and Eminem all made it in, while recurring multi-year nominees New York Dolls, Rage Against the Machine, and MC5 did not. When the Rock Hall faced criticism that it had inducted the "wrong" people, it shot back with a statement that rock "is not defined by any one genre, rather a sound that moves youth culture."
That statement certainly sounds noble, but it started to feel like nothing more than a veiled admission of its shitty power dynamics and conflicted politics. It's been that way from the start. Although the 1986 inaugural class recognized Black originators such as James Brown, Little Richard, Fats Domino, Ray Charles, Chuck Berry, Sam Cooke, and Robert Johnson, Black women were nowhere to be found. LaVern Baker wasn't inducted until 1991, Sister Rosetta Tharpe not until 2018. Willie Mae "Big Mama" Thornton still isn't in. Once you consider the bigger picture and longer view, it only gets worse. It took until 2021 to induct Tina Turner as a solo artist — the same year the Foo Fighters, whose bio praised the band for "carrying the torch of rock authenticity," skated in on their first year of eligibility.
Journalist Evelyn McDonnell spelled it out even more clearly in 2019, reporting that the overall percentage of inductees of color had declined from 55.8 percent in 1989 to 32.7 percent in 2019. In 2020, when the ballot was more racially diverse than my first year of voting, people of color still comprised a mere 18.6 percent of the nominees. In fact, over its four-decade history, the Rock Hall had inducted fewer than 100 women versus nearly 1,000 men, which put female representation somewhere in the ballpark of 8 percent.
I began reflecting on my experiences with the Rock Hall, especially after recent analyses by Courtney Love and the critic Jessica Hopper, who have pointed out that about 75 percent of the board of directors — and whose identities are not widely disclosed — are white men (the nominating committee is likely even less diverse). The voting committee's membership is kept under wraps too, even within its own ranks, supposedly to prevent lobbying and collusion. But inductees themselves get to vote in future years, ensuring that as long as aging white men remain the majority of nominees, they will also remain the majority of voters. Right now, that's somewhere around 90 percent.
I don't assume the board of directors, nominators, and voters are all close-minded and dead set on keeping women and people of color out. But I do think many of them aren't sure how to acknowledge past exclusion, much less how to remedy it. The conundrum is only made worse when there's no shared sense of what the Rock Hall is supposed to represent, and who's supposed to be doing the representing. As I thought about my role in the institution, I wondered why I'd never been invited to participate in any other way aside from annually reconfirming my address and casting my votes. Did my "expertise" hold any more sway than a fan vote? Or was I simply invited to vote so the Rock Hall could check its own box?
This year's ballot was the breaking point. On one hand, the nominees appeared more diverse than ever, but on the other they're so diverse it was impossible to fairly select five from among Kate Bush, Missy Elliott, Willie Nelson, Iron Maiden, Sheryl Crow, Joy Division/New Order, Cyndi Lauper, George Michael, Rage Against the Machine, Soundgarden, the Spinners, the White Stripes, A Tribe Called Quest, and Warren Zevon.
I love Missy Elliott's music, but is she a rocker? Iron Maiden is a rock band, but is it among the most meritorious nominees? And does voting for them do anything to diversify the Hall? In my first year of voting, I might have checked boxes for both, but now I feel like the only way that makes sense is if this is the Popular Music Hall of Fame. As long as it's the Rock Hall, it feels like being asked to choose diversity or rock rather than celebrating the diversity within rock. That's a false dilemma, created by the very institution that purports to solve it.
Some critics of the Rock Hall have suggested that adding more women and people of color will remedy the longstanding imbalance of power that got us here. Foundation co-founder and former chairman Jann Wenner has dug in, claiming that to maintain its integrity, "Musical achievements have got to be race-neutral and gender-neutral in terms of judging them." Neither approach addresses the problem at its root or resolves what constitutes "achievements" or "rock." Any thoughtful overhaul would require an honest internal accounting of the Rock Hall's history, which has been anything but neutral, and transparent discussions about its mission into the future: Who are we and what are we voting for? Which histories get preserved and which get erased?
I thought about approaching the board to raise these issues, but considering their lack of communication with me over the past five years, I doubt they care about my opinions. As a stakeholder and journalist who cares deeply about the future of music and the truth, I've come to the conclusion that I can no longer serve or align myself with the institution. I hope only that by publicly withdrawing I can continue to spark an open conversation about what real inclusivity might look like and how to achieve it.