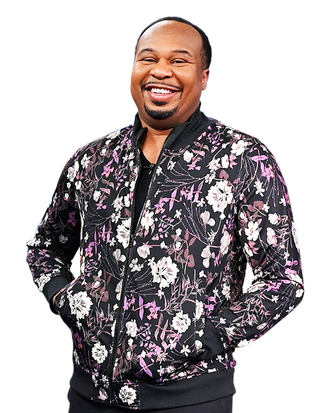 Roy Wood Jr. wants to make one thing clear: If he's offered the vacant Daily Show hosting job, he's taking it. "I don't know what the hell I'm gonna do with it," he tells Sam Sanders on this week's Into It, "but I'd take that job." In the meantime, he's picking up the mic for a different hosting gig this Saturday when he emcees the 2023 White House Correspondents' Dinner. Ahead of the event, Wood discussed how he's been preparing, what's informing his jokes, and how he plans to toe the delicate Correspondents' Dinner hosts line: honoring and supporting a robust free press while also taking that same press down a few notches. Read an excerpt of the conversation below or listen to the full episode of Into It wherever you get your podcasts.
When I think about our politics right now, specifically post-Trump, it's increasingly hard to find humor in any of it. When I see these Black guys getting kicked out in Tennessee, attacks on trans kids, Black history books being taken out of high schools, I'm like, Is any of this funny? During Trump, at least he was a punch line, but now I'm like, Is all of this stuff just really sad? Are your viewers in the same boat as me?
It's harder to make it funny. Also, it's harder to shame people into seeing what they're doing. To have jokes that act as a true salve, we must ask, are the jokes as soothing? Do they work like they used to? It's like when you were a kid and you only needed one Tylenol. Then you became an adult. You have real problems now. You need three. The jokes really got to kick you in the teeth to really make you laugh and let go.
How much harder has that made your job as a comedian? What has changed about how you do your work?
I think my job as a comedian is to just make the jokes. I can offer jokes from a different perspective. That's why with this White House Correspondents' Dinner, people are like, "Well, what are you going to say and who are you going to go after?" And I'm like, "Go after them and then what? Are they going to resign the next day?" Yeah, I got a bunch of Clarence Thomas jokes, but I don't imagine I have one that will make him resign.
If he ain't resigned by now, he's never leaving.
Exactly. We're going to tar and feather you a little bit and you hope that the next justice or the next person elected, that it changes their behavior. That's my hope.
How much of your Correspondents' Dinner set is just Clarence Thomas jokes? Say two-thirds or more. That's what I want.
I could joke about Clarence Thomas getting flown around the country like an Instagram model. The whole thing could be Clarence Thomas jokes, but there's a little bit of CRT we need to get into. There's some DeSantis versus Trump we need to get into. There's some Democrats filibustering, the Republicans' police-reform bill we need to get into.
And that's the thing; there's questions to explore, but then you have to wonder, Okay. Am I here to make a point or am I here to be funny? I'm here to be funny.
They often ask you to do both, and it's hard. Mentioning Clarence Thomas makes me think about the ways race plays out in a space like the Correspondents' Dinner, particularly when the speaker is Black. How Black do you think you can be on that microphone? 
It's not about can be. It's about what I should be. I think the role of Correspondents' speaker is to make sure that you are doing right by the constituents.
Who are your constituents for this? The room, America, what?
Nobody in that room is my ally. I'm for the people. Comedians are for the people. Make no bones about it. I am a Black American raised in the American South and there's certain truths about that experience that need to change and I'm not here to camouflage that.
I prioritize figuring out how to do that in the funniest way possible, because otherwise, it's just a speech. I wasn't hired to give no speech, but I was hired to give a little bit of truth. I'm not Dick Gregory. I don't have the ability to oscillate between humor and anger effortlessly in indignation. I don't think I possess that, but I think there's a way to talk about the Black experience. I do know that we'll have a conversation about reparations somewhere up in there. You think I'm going to be, as a Black American on the biggest stage in front of the most powerful people and not tell them to consider reparations? Who else will have the opportunity to have the undivided attention of lawmakers?
But you are excited about the gig. I mean, it seems like a lot. Are you excited about it, at least?
Yeah. It's a challenge. I remember early in my career, walking through Times Square profusely sweating because I had to go on David Letterman. I could do that with my eyes closed now. But this, yes, I will be walking through the National Mall sweating.
People may not know your father was a journalist, a pioneering journalist who covered the Civil Rights Movement legendarily. What advice would he give you if he were here today on how to nail this Correspondents' Dinner?
Pull no punches and tell them white folks the truth, that's probably what he would say.