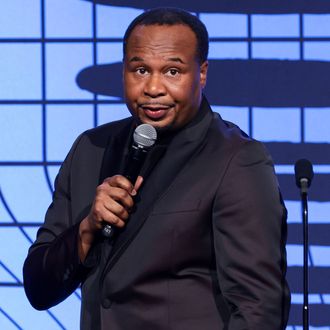 Photo: Dimitrios Kambouris/Getty Images
While The Daily Show correspondent Roy Wood Jr. may have to outlast a carousel of guest hosts in order to fill the vacant hosting seat left behind by Trevor Noah, he's about to get another chance to show the execs at Comedy Central how capable he is of stepping into Noah's shoes. On April 29, Wood will host the 2023 White House Correspondents' Dinner, where he described his hosting style for the evening to be "the quickest and clearest way for people to understand exactly who I am and what I believe." He will be joined by political attendees such as President Joe Biden, First Lady Jill Biden, and other invited celebrity guests like John Legend and Chrissy Teigen. The event will be live on C-Span starting at 8 PM ET and streaming on their website here or through the network's app C-Span Now.
In conversation with Vulture's Sam Sanders, Wood gave a peak into what's possibly to come as he steps up to the podium. "I could joke about Clarence Thomas getting flown around the country like an Instagram model. The whole thing could be Clarence Thomas jokes, but there's a little bit of CRT we need to get into. There's some DeSantis versus Trump we need to get into," he explains on this week's Into It podcast. "And that's the thing; there's questions to explore, but then you have to wonder, Okay. Am I here to make a point or am I here to be funny? I'm here to be funny."
On February 2, the White House Correspondents' Association announced that Wood will be the featured entertainer at the 2023 White House Correspondents' Dinner, following directly on the heels of his former Daily Show boss's hosting turn in 2022. Wood, who has been a correspondent on The Daily Show since 2015 and has been performing incisive stand-up about hot-button events for decades, will have a wealth of experience to draw from as he sets his sights on this uniquely difficult comedy room. "It's an honor to be a part of a long-running tradition of celebrating those members of the media, who work so hard to uncover the truth, and hold our government accountable," Wood said in a statement. "It will be a great night that will go down in the history books, or not, depending on which state you live in."
"Roy Wood Jr. brings a journalistic eye to his comedy. He's hilarious — but also makes sure his audiences are thinking as they laugh," said Tamara Keith, WHCA president. "My aim with this year's dinner is to lift up the importance of a free and independent press to a functioning democracy, so I am thrilled to be able to feature a comedian who gets what journalism is all about."
Hopefully, Herschel Walker will give another press conference between now and then so Wood can borrow a little more of his "material" for the event.
This post has been updated throughout.