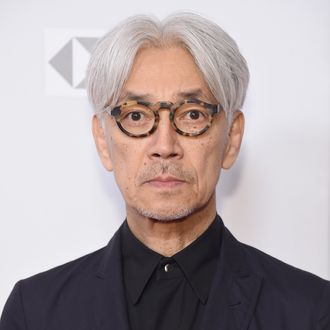 Photo: Getty Images for Tribeca Film Fe
Ryuichi Sakamoto, the legendary composer who scored films including The Last Emperor and The Revenant, died on Tuesday, his management team confirmed. "We would like to share one of Sakamoto's favorite quotes: 'Ars longa, vita brevis.' Art is long, life is short," Sakamoto's management team said in a statement. They added, "He lived with music until the very end." Sakamoto had been undergoing treatment for rectal cancer, he revealed in January 2021. He was 71.
Born in 1952 in Tokyo, Sakamoto was surrounded by the music of Bach as well as the Beatles. He went on to found the enormously influential Yellow Magic Orchestra with Haruomi Hosono and Yukihiro Takahashi in 1978, releasing hits like "Computer Game." A pioneer of electronic music and synth pop in the 1970s, Sakamoto began his film-scoring career with 1983's Merry Christmas, Mr. Lawrence. In addition to starring in the film alongside David Bowie, he won the BAFTA Award for Best Score for his work on the film in 1984.
Sakamoto then scored an Academy Award and Golden Globe Award for 1987's The Last Emperor, before composing the scores for 1990's The Sheltering Sky and 1993's Little Buddha. He continued his composing work in recent years, scoring The Revenant alongside longtime collaborator Alva Noto and Bryce Dessner. Sakamoto's prolific output also included 22 acclaimed solo albums, including 2017's asnyc. A posthumous album of Sakamoto's music titled Travesía, curated by Revenant director Alejandro Iñárritu, is set to be released on May 5. "The big theme of him is curiosity," Noto said of Sakamoto in 2021. "Ryuichi understood, very early, that not necessarily one specific genre will be the future of music — that the conversation between different styles, and unusual styles, may be the future."