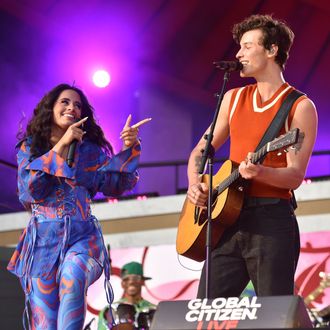 "Friends."
Photo: Stephen Lovekin/Shutterstock
Update, April 20: Maybe that kiss wasn't "a one-off" after all. After Shawn Mendes and Camila Cabello smooched at Coachella, the pair were spotted again on April 19 holding hands. And now, "Page Six" is less sure that they're just friends. A source told the outlet, "They're enjoying getting reacquainted and seeing where it goes." What's more, Cabello just teased a new, Taylor Swift–esque song called "June Gloom," on which she sings, "Are you coming to Coachella? / If you don't, it's whatever / If you do, it'd be all I think about." The caption says "4.12," which could be referring to when she wrote it — just days before that fateful desert kiss. Like Cabello told us years ago, just one hit of him, and she'd never be the same.
Original story follows.
Blink-182 wasn't the only big reunion at Coachella. Exes Shawn Mendes and Camila Cabello popped by the desert for a surprise collab. Over a year after their split, the musicians were caught spending some time together, wandering the festival grounds, dancing to Bad Bunny, and, at one point (that fans saw), even kissing. But according to a source, this linkup is just "a one-off." An insider told "Page Six" that "one thing led to another as the night progressed" between the exes, who have reportedly stayed friends since their breakup. They reportedly "decided to meet up at Coachella since they were both going," but "they aren't dating again." Sorry, Shawmila shippers! Another source, though, didn't confirm the couple's status, simply telling People that they've "been friendly for several months" and "always seemed to have a special connection." All we know is Cabello better keep an eye out for Sabrina Carpenter.