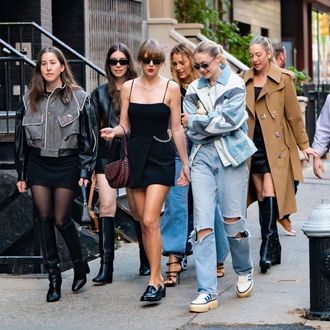 We cannot tell what season it is in this squad photo.
Photo: MMVV, KEVY/BACKGRID
Celebrity squads are going viral like it's 2011 and there's some moody 15-year-old Tumblr addict furiously reblogging their paparazzi pics. (#SquadGoals #BestFriendSquad #Crew, 859 notes.) Taylor Swift, Shawn Mendes, and Barack Obama have made headlines with their respective squad photographs in the past week, leaving us no choice but to do a vibe check and help you figure out how to pick your fighter. Which celebrity friend group matches your sensibility? Which celebrity friend group would absolutely drive you up a wall? Each pic offers a bounty for the eyes. There's a lot to unpack, so we did all the parsing for you below.
Taylor Swift's Power Posse
Headlines call Taylor Swift's coterie of friends a "squad," but we'll call it a power posse because we're committed to alliteration. We latched onto the word "power" because Swift keeps various A-listers, prominent musicians, and supermodels by her side. Anyway, a gaggle of her closest allies were photographed galavanting down the streets of New York on April 20 in between dates for her sold-out Eras tour that made many a Swiftie an abolish-Ticketmaster activist and amid her breakup with Joe Alwyn. We see Swift wearing a black Simkhai chain-detail skirt and black cami complete with nondescript Chanel loafers — no jacket, no tights, just a Stella McCartney shoulder bag. A Haim sister, Este, is on the far left wearing boots, tights, and a leather jacket like it's October and the wind is whipping. Gigi Hadid opted for a more spring look: Her fit is a Canadian tuxedo that is definitely far warmer than Swift's current situation. Blake Lively, Danielle Haim, and Alana Haim are similarly dressed in outerwear.
Vibes: They absolutely fight over the thermostat. Swift needs the AC blasting even in winter, whereas everyone else prefers something a little less extreme.
Shawn Mendes's Barefoot Brigade
We didn't think Shawn Mendes could ever get more interesting, but he managed to achieve that difficult feat with an April 26 smoothie run. The man who kissed his ex Camila Cabello at this year's Coachella has traded his "prepackaged teen star with a hidden secret energy" for a "toned white guy who lives in a five-bedroom poly Bushwick apartment, blends all his food with chia seeds, and keeps live scobies in his fridge for homemade kombucha" vibe. He's out on a beverage run in West Hollywood with his friends, many of which are in the late-'60s-early-'70s-nostalgia band Mike Sabath and the Moongirls. A barefoot man on the left sips a beige drink in linen pants, a white lace-up crop top, and a leather-bound notebook under his shoulder, while the guy on Mendes's right sports a bandana over his head and wears a black vest over denim pants with his key ring attached. The dude on the far right rocks Bermuda shorts and leaves his button-down half-open to expose his hairy chest. The beige drink in his hands is a canvas for his rainbow nails. They're carrying bags from Detox Market.
Vibes: Very, very fun to smoke a joint with in Maria Hernandez Park listening to Diiv until you get to a conversation about who's gentrifying northern Brooklyn.
Barack Obama's Chamber of Commerce Centrists
He did this for the oldheads, let's be honest. Barack Obama, the man who did a reverse Ronald Reagan (left the presidency for the entertainment industry), was pictured in Barcelona with ride-or-dies Bruce Springsteen and Steven Spielberg, two men who absolutely need no introduction. Obama and Spielberg were in Spain to attend Springsteen's concert. They are all smiles as they pose with the staff of the Restaurant Amar, located inside the Palace Hotel, on April 27. The trio goes way back — Springsteen performed at Obama's first inauguration in 2008 and joined him for the podcast Renegades in 2021. Obama awarded Spielberg the Presidential Medal of Freedom in 2015.
Vibes: The gray-haired trio are giving "elder statesmen who are probably out of touch with any kind of political reality and decide to have a little reunion trip." They got lit off-screen.