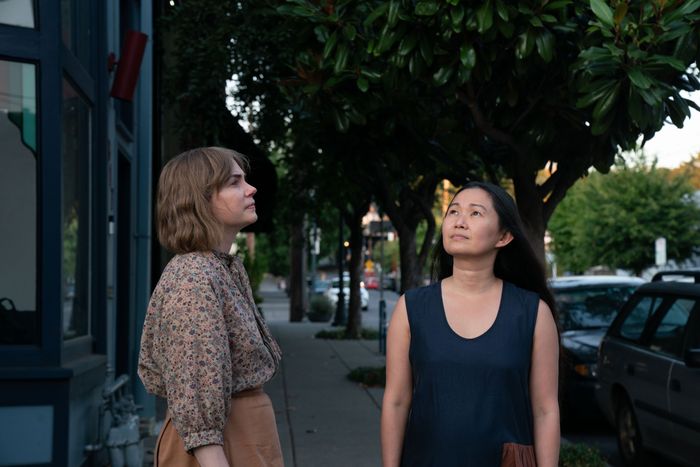 In Kelly Reichardt's wonderful new comedy,
Showing Up
, Williams plays a sculptor on deadline who keeps getting pulled away.
Photo: A24
Michelle Williams plays a sculptor in Kelly Reichardt's outrageously good new movie, Showing Up, and it doesn't require a stretch of the imagination to see her as a stand-in for the director herself. Like Reichardt, Williams's character, Lizzy, makes art that is idiosyncratic and intimate in scale — little ceramic women (made by IRL artist Cynthia Lahti) that she refers to as her "girls" and glazes in striking colors. It's lovely stuff, full of detail you have to lean in closely to appreciate, but it isn't the sexiest from a branding perspective. While Lizzy spends the movie preparing for a show at a local gallery, her frenemy, rival, and landlord, Jo (Hong Chau), is readying two — one of them a prestigious showcase at the school they're both associated with. When Lizzy gazes up at one of Jo's pieces, a dramatic yarn installation that looks like a baleful eye, the mind goes to Reichardt (who supports herself by teaching at Bard) watching the films of attention-getting A24 labelmates like Ari Aster and the Daniels. You can read traces of admiration and resentment into Williams's enigmatic expression, but more than anything, Lizzy seems to be wrestling with herself at that moment. It is, after all, not Jo's fault that she makes work people are so eager to associate themselves with any more than it's Reichardt's fault that the exquisite features she has been turning out for three decades require viewers to surrender themselves to contemplative charms.
Showing Up is more than worth surrendering to. It's one of Reichardt's best — warm as one of the sunny Portland, Oregon, afternoons Lizzy's perpetually fretting her way through and an affectionate rumination on the relationship between art and all the day-to-day stuff of life that can get in the way of making it. Lizzy isn't a full-time sculptor, paying the bills with an admin job at the Oregon College of Art and Craft and working for Jean (Maryann Plunkett), who, we eventually learn, is her mom. Interspersed throughout Showing Up and forever in the background are undergrads weaving at looms, huddled over pottery wheels, and whirling around in the grass as though told to act out the sensation of "unencumbered bliss" (it's for a class called Thinking and Movement). But being a student is a temporary — and precarious, considering that the actual OCAC closed in 2019 — luxury Lizzy no longer enjoys. When Marlene (Heather Lawless), a visiting artist, expresses surprise and pleasure at learning about Lizzy's work, you sense that most people see Lizzy not as an artist but as someone doing the unglamorous but necessary job of keeping things running. It's a tendency that extends to her personal time as well, as she frets over a pigeon her cat wounds; the fact that her mercurial brother, Sean (John Magaro), has become convinced the neighbors are blocking his TV signal; and the houseguests who may be taking advantage of her father, Bill (Judd Hirsch).
Hirsch, who plays a contentedly retired ceramicist here, made a showstopping appearance in The Fabelmans last year to tell the movie's young Steven Spielberg stand-in that to be a true artist is to be selfish and always choose your work over your loved ones. "Art will give you crowns in heaven and laurels on earth, but it'll tear your heart out and leave you lonely," he declared. Although it couldn't have been planned, Showing Up plays like a response to that particular declaration — an affirmation of art as coexisting with all the prosaic stuff of everyday life. Lizzy could really use a little more selfishness when it comes to her work, as she's constantly allowing herself to get distracted or drawn away by things she pretends are urgent but that, as her deadline approaches, look more like acts of procrastination. She takes the pigeon to the vet unnecessarily, checks in on Bill unnecessarily, and comes up with an excuse to see the reclusive Sean. That last one, at least, is justified. Sean is a genius, his mother declares in passing, a judgment that seems to have more to do with his mental-health struggles than with any particular achievements on his part. The unspoken other side of that equation is that Lizzy, stable to a fault, is not.
With her packed pasta lunches and unstylish Crocs, Lizzy might as well be the opposite of an art monster. Williams is wonderful in her fourth collaboration with Reichardt, giving the character the pinched air of a Victorian bluestocking who has found herself in crunchy present-day Oregon and is slightly put out by the situation. Lizzy can be touchy and easily flustered and has no patience for working the room — even when Marlene (an admirer of her sculptures) brings a gallerist friend from New York to her show. Jo, in contrast, exudes effortless cool as she drives around in her truck blasting punk music and indulges in a celebratory hookup with a dreamboat colleague (André Benjamin, who also contributes flute music), all while remaining an unapologetically absentee landlord who hasn't addressed the lack of hot water in Lizzy's apartment. And yet, Showing Up gently insists, Lizzy is just as much an artist as Jo is, and the work she produces has just as much meaning to her — regardless of whether it leads to wider fame. Reichardt's inviting comedy celebrates the art world far more than it makes fun of it, but it's emphatic about something that shouldn't need affirmation: Fame and money certainly have bearing, but to be an artist, all you actually need to do is make art.