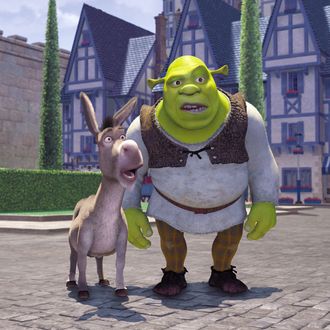 Vest, $645, by Magnolia Pearl. Blouse, $420, by Magnolia Pearl. Belt, $200, by Magnolia Pearl. Stockings, $385, by Magnolia Pearl. Shoes, $550, by Magnolia Pearl.
Photo: DreamWorks/Courtesy Everett Collection
Variety once told me the world was gonna roll … out more Shrek movies. While the property isn't the newest IP in the shed, Dreamworks won't be looking kind of dumb if they bring their focus back to the green guy that put them on the map. The years have been coming and they haven't stopped coming since the original movie's release in 2001, and since that time, NBCUniversal's other animation studio, Illumination, hit the ground running with successes like Minions and The Secret Life of Pets, as well as the upcoming The Super Mario Bros. Movie. It only makes sense that Illumination CEO Chris Meledandri also serves as a "creative partner" to DreamWorks Animation, and he believes there's still so much to do, so much to see in the Far Far Away Cinematic Universe, especially if he can bring back the franchise's all-star cast to go play their original roles.
"We anticipate the cast coming back," he said in a statement. "Talks are starting now, and every indication that we've gotten is there's tremendous enthusiasm on behalf of the actors to return." One such all-star who seems open to getting the show on and getting paid is Eddie Murphy, who told ETalk in January that he's interested in doing a Donkey spinoff in the vein of the glittering gold, mold-breaking success of the Puss in Boots films. Meledandri is a media man who does not beg to differ, judging by the hole in the movie-release calendar for big family films. Asked whether he'd be interested in a Donkey series, he said, "Without question." That's the way we like it and we'll never get bored … of Shrek!