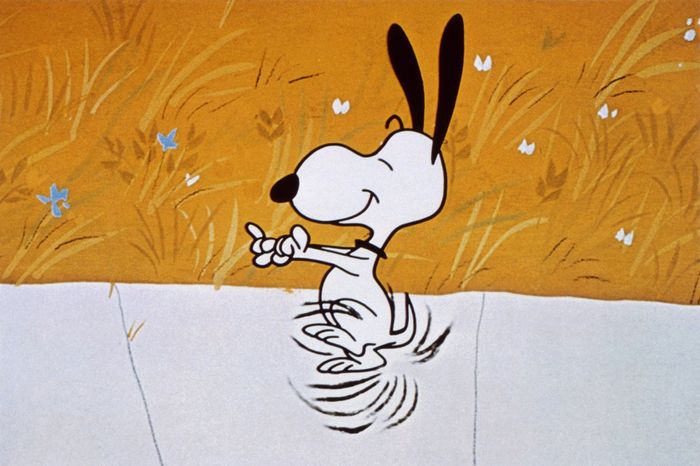 Snoopy stans, rejoice!
Photo: LMPC via Getty Images
Snoopy Sister is no longer in the doghouse. After 20 days of being grounded from her phone, @snooopyiscool is back on TikTok to pair a wide variety of music with spliced clips of the beloved beagle. Her first post after her return is an upbeat, minute-long montage of Snoopy on the move, doing everything from playing tennis to swinging on a trapeze. "YOU CANT GROUND ME FOREVER IM FREE !!!!!!" the caption declares. The Canada-based high schooler — who prefers her name and age remain anonymous — first went viral because of her older sister, an artist who prefers to be identified online as grovy. In December 2022, @itsgrovy posted a video explaining that her little sister only uses her phone to make fan edits of the Peanuts character. The video currently has 15.8 million views, and Snoopy Sister's account has since attracted 381.4k followers who genuinely love Snoopy or find the hobby endearing. "I'm just happy I'm able to provide a platform for her and encourage her to do whatever she wants, [knowing] that there's gonna be at least me and some of my followers supporting her," grovy, who is six years older than her sister, tells Vulture on a recent video call. "And yeah, it's ballooned from there. I don't even think she needs my support at all — she has her own army now."
Stans on SnoopyTok did indeed mobilize on March 31, when grovy first announced her sibling's hiatus from Snoopy edits (according to grovy, Snoopy Sister's phone privileges were revoked because she is "abysmally bad" at math and needed to improve her grades). Malala Yousafzai appeared to be one of several thousand people outraged by the decision, given that the Malala Fund account called the grounding the "worst news" of the day. A spokesperson for the nonprofit later confirmed to BuzzFeed News that a team member, not Malala herself, wrote the comment. Still, that didn't stop TikTok from continuing to call for Snoopy Sister's freedom as if it were an international issue of justice. "@potus DO SOMETHING," one comment demands.
According to a spokesperson for Peanuts Worldwide, Snoopy has always enjoyed worldwide success and is currently "in his 72nd year of renaissance." A Sheepadoodle made headlines this month for being a real-life Snoopy doppelgänger, while traffic to the American Red Cross's appointment page reportedly increased by 50% after the recent launch of a campaign that gave blood donors a now-coveted Snoopy shirt. TikToks tagged with #snoopy currently collectively boast 833.2 million views, and grovy's introduction to Snoopy Sister is the top video under the hashtag. Even the Peanuts PR team is in the loop; grovy says she reached out to tell them about her sister's edits, and later received gifts of matching Snoopy merch.
Despite her online fame, Snoopy Sister tells Vulture that she doesn't talk about her Snoopy edits with her classmates in real life. "I don't know, I feel like they would kind of judge me for liking a kids' show or something," she says during a video call in which most of her face remains hidden behind a Snoopy plush. "'Cause I don't have many interests, and like… it's a really big Snoopy obsession." Her love for Snoopy started when grovy took her to Canada's Wonderland this past September. The amusement park has an entire Snoopy-themed area meant for little kids; she and grovy waited in line for a ride, but were told they were too old to get on. When Snoopy Sister returned home, she began researching the character that first appeared in a Peanuts comic strip in 1950. Soon, she was screen-recording clips in her room, timing them to music with CapCut, and coming downstairs to show her sister the final product.
Unlike grovy, who previously went viral on Twitter and TikTok for her rejected boba fish design, Snoopy Sister isn't very plugged into social media. "I feel like it's a bit time-consuming, and I don't really talk to other people," she explains. "I enjoy talking to my sister more, 'cause she's close and she gets me." grovy adds that Snoopy Sister is her beta tester for all her jokes, her assistant when she cooks, and her fellow amateur music critic (grovy says they like to point out when songs on the radio are "dookie from a butt"). They also sometimes go to the gym together, where Snoopy Sister watches Snoopy on YouTube while running on the treadmill.
The most popular edit on @snooopyiscool is still her first edit, which puts jaunty flute music over footage of Snoopy working as a cashier. "I love grocery shopping. But I have no money really," she adds in the caption for the video, which currently has 1.7 million views. Videos on her account consistently reach hundreds of thousands of viewers, and Snoopy Sister has been surprised by how many other Snoopy fans there are online. But she can understand why Snoopy and the "really creative" plot of his adventures resonate with a wide audience. "He's a really silly dog," she muses. "And he does really funny things, and he has many emotions, which I feel like is a bit relatable … like he doesn't like doing dishes."
While she was banned from her phone, Snoopy Sister thrifted DVDs so she could consume Snoopy content offline and drew some physical fan art of Snoopy. She also began building a Snoopy website where she plans to feature a playlist of the music she uses in her edits, share places she hopes to visit like the Charles M. Schulz Museum, and more.
When it comes to her TikTok account, however, she doesn't have specific ambitions. "I mean, if Kevin Hart watched my edits, I would go crazy," Snoopy Sister concedes, giggling (according to grovy, Snoopy Sister has seen every single Kevin Hart movie on Netflix.) But in general, she's not concerned about becoming more famous or making sure that her videos continue to go viral. In fact, Snoopy Sister would keep making edits even if she were banned from TikTok. "As long as I enjoy this hobby," she says, "I'll keep continuing it and sharing it with my sister."