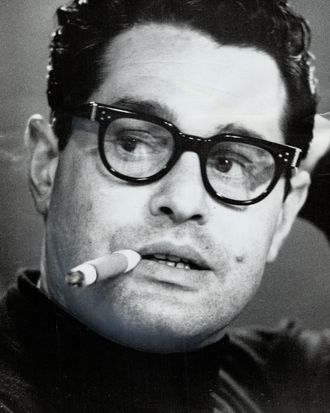 Mitchell Nestor during his time as artistic director of the Strasberg Institute.
Photo: Graham Bezant/Toronto Star via Getty Images
The Lee Strasberg Theater & Film Institute is at the heart of a new lawsuit filed in Manhattan on April 19 that further pulls back the curtain of alleged cruelty against women at the renowned acting school. A former student alleges that then–artistic director Mitchell Nestor "raped and sexually assaulted" her in the early 1970s.
The lawsuit, filed by filed by Andrew M. Stengel under New York's Adult Survivors Act, names the school and late founder Lee Strasberg's wife, Anna, as defendants. Nestor is believed to be deceased. Asked for comment, the institute said it have "no comment at this time."
The former Strasberg student, referred to in court papers as "Jane Doe," came to New York City in 1973 with ambitions of becoming an actress. After starting classes at the institute, the woman claims Nestor "controlled the conditions of Ms. Doe's education, studies and her future as an actress." According to the lawsuit, around early 1974, Nestor went with Doe to her Manhattan apartment "under the pretense of giving her private instruction on behalf of [the institute]." When he was inside, Nestor allegedly raped Doe and tried to sodomize her, the lawsuit alleges.
One week after this alleged attack, Nestor demanded that Doe come to his office. Doe thought she had to go as he held such a high position at the school and she felt that "he could make or break her acting career," according to the lawsuit. When she arrived, Nestor allegedly shut the door and approached her. He then "forcefully kissed [Doe] and forced his hand into Plaintiff's pants and he penetrated her vagina, without [Doe's] consent, with at least one finger." While he sexually assaulted her, Nestor warned that if she told anyone about the rape, she'd be kicked out of school, court papers allege.
While the school has been synonymous with elite acting education since its founding in 1969, the Strasberg Institute's manner of teaching is said to lend itself to extremes — which, some allege, extended to the institute's treatment of women. Lee is considered the father of Method Acting, a grueling, and at times controversial, process undertaken to commit a role. The Method, as it's still called by Strasberg's institute, "trains actors to use their physical, mental and emotional self in the creation of a character and stresses the way in which personal experience can fire the actors imagination." Strasberg and his school boasts alumni such as Marilyn Monroe, Al Pacino, Harvey Keitel, Uma Thurman, Lady Gaga, and many others.
The Method's intensity easily set the stage for Strasberg and his staff's alleged mistreatment of female pupils, some allege. "Attacking students — mostly women — seems to have been the special skill of Lee Strasberg … as a founder of the Group Theater in the 1930s, and the artistic director of the Actors Studio from 1951 until his death in 1982," The New York Times wrote in a 2022 article, "Is It Finally Twilight for the Theater's Sacred Monsters?" Strasberg was known for "tearing them down to build them up." In her memoir The Men in My Life, actor Patricia Bosworth said Strasberg told her to take off her clothes, "forcing her to perform in bra and panties in front of a packed class to understand her character's shame," per The Times.
Jane Doe's allegations detail a cruel environment at the institute. She claims the school knew about Nestor's alleged sexual assault of Doe and allowed him to keep overseeing, supervising, and controlling her coursework, according to her suit. The lawsuit charges that Nestor was a "a brazen and chronic sexual harasser and sexual abuser of women and students." Moreover, school leadership — including Anna Strasberg, who inherited Marilyn Monroe's estate from her late husband — allegedly "ratified, condoned and/or covered up Mr. Nestor's unlawful sexual acts against [Doe]." The suit claims Nestor sexually abused other students before Doe, and it "was well known among Defendant School's administrators and faculty, including Defendant Strasberg, employees and staff that Mr. Nestor was sexually inappropriate with students." As a result of the alleged sexual abuse, Doe suffers from "emotional distress including anxiety, nightmares and post-traumatic stress disorder."
This lawsuit is an example of how New York State's Adult Survivors Act works to further reveal past abuses in the entertainment industry. The act provides a one-year window from November 22 for victims to file lawsuits for incidents that unfolded outside of the civil statute of limitations — including against institutions that enabled the abuse. Five women, now legally empowered by this legislation, filed suit against Bill Cosby in December 2022 alleging sexual misconduct, for example.
A similar law in California has also allowed survivors of long-ago abuse to file suit, revealing still more abuses in the industry. Olivia Hussey and Leonard Whiting, who starred in the 1968 classic Romeo and Juliet as minor teens, filed suit in January 2023 claiming that director Franco Zeffirelli tricked them into appearing nude on screen.