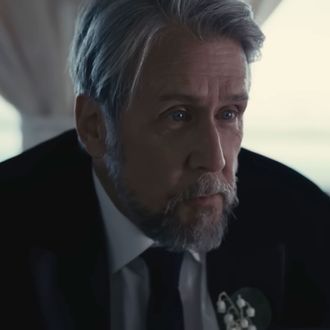 One of Succession's greatest magic tricks, dramaturgically speaking, is its ability to make us care about horrible people: not just horrible people but people who are horrible at a macro, existential, threat-to-democracy level. As Scott Tobias put it in his Vulture recap of season four, episode three, the Roys "use their media empire to pump familial toxins into the national bloodstream." If that's the case, the Roy children have been freebasing those toxins their entire lives. For that, we can't help but to feel sorry for them. And there's maybe no sorrier soul than Connor (Alan Ruck).
Conheads are fighting for our lives this season. The oft-forgotten eldest son, the out-of-the-loop half-sibling, both a black sheep and a little lost lamb, Connor has gone through it these past couple of episodes. He has sunk his life into a misguided presidential campaign, and is polling at at one percent. His siblings show up to his rehearsal dinner turned bachelor party too late, and the only reason why his dad, Logan Roy (Brian Cox), joins them at all is to attempt a karaoke-room détente with his main-character-syndrome-afflicted siblings. His big dream wedding is eclipsed by Logan's death, which his siblings totally don't even think to tell him about for 15 crucial minutes. He has so much love to give — to his "pop," to the siblings he basically raised, to Willa, to the United States of America (lol) — and he gets none in return.
Then there's the loony cake. The first half of the episode finds Con in Groomzilla mode, spiraling over his cake as the wedding is underway. It's all wrong, he says. He wants a new one. He tells the wedding planners that they can use the cake for display, but he doesn't want its "internal qualities" exposed (Freud is spinning like a rotisserie chicken in his grave). He refers to it as a "loony cake," and Kendall (Jeremy Strong) and Roman (Kieran Culkin) explain to Willa (Justine Lupe) that when young Connor was told his mom was "going to the funny farm," their dad "and whoever" gave him cake to soften the news. "So he was eating Victoria sponge for, like, a week straight." We already know a lot about the other siblings' mom, Lady Caroline (Harriet Walter), but not much at all about Connor's. Here's what we do know.
Alan Ruck is 66 but has told The Guardian that Connor is in his mid-50s, meaning that Logan probably had him in his late 20s or very early 30s. Presumably, Con's mother was a few years younger than Logan. At the start of the 1960s (Connor would have been born in the mid-to-late '60s), the average American age at first marriage was 22.3 for men and 20 for women. Logan doesn't exactly seem like he was ever the sort of forward-thinking man to buck against those numbers.
We know that Connor's mom founded the family's annual charity gala, the Roy Endowment Creative New York (or "RECNY") Ball, as seen in the first season's "Sad Sack Wasp Trap." This would explain why Con's put in charge of the event and why he has such a freak-out over suboptimal butter. And we know that Con's mom was a patron of the arts, particularly "contemporary dance," and that she "loved" hosting a high-society event full of old New York names like the Astors. Connor was old enough to have memories of sitting at the head table between his parents during a time when he was Logan's only son and the one to whom Logan whispered age-inappropriate gossip about who's "porking" whom.
In the same Guardian interview, Ruck said that Connor was 8 when his father divorced his mother, so through his childhood and teen years, he "was alternately at boarding school or with a very sick woman." In season three, Connor says he "didn't see Pop for three years," which could refer either to an extremely long stretch of boarding school or time living with his mother.
His mom's institutionalization is first referred to in season-two episode "Dundee," when Roman taunts Connor by saying, "My mommy got sent to the booby hatch, and now I'm sad." The passive language about her being "sent" to a psychiatric facility evokes famous examples of rich, prominent families shuttering up and institutionalizing "difficult" family members, particularly women. Rosemary Kennedy comes to mind. In fact, Ruck made a very dark allusion to the Kennedy story in the Guardian profile, saying, "Maybe Connor got a little stuck in the birth canal, like Rosemary did." Ruck thinks that Connor's mom's psychiatric issues were real and severe.
But it's unclear what her condition was, if it was preexisting or emerged during her marriage, the degree of its severity, or if Logan used her institutionalization as grounds for divorce so he could marry Lady Caroline. If that last bit is true, it adds an extra-tragic dimension to Connor's relationship with his siblings. The show has never confirmed that Connor's mother is dead, but it's a safe enough assumption, especially considering the toll that severe mental-health issues take on life expectancy.
We here for you, Con.